All
Hills Shire Council
Playground
HSC opens new Kumbatine Crescent Reserve playground at North Kellyville
A new playground is now open at one of North Kellyville's upcoming reserves.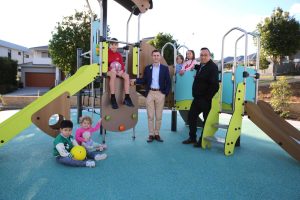 ---
Dr Peter Gangemi, Mayor of the Hills Shire, opens the Kumbatine Crescent Reserve at North Kellyville on Friday, 7 July 2023.
The reserve has a playground set comprising slides, platforms, and climbing nets. Picnic shelters paved walking paths, and a kickabout area are also part of the still-unfinished reserve.
As of 10 June, the Basin earthworks and the playground are complete. Additional pending structures and areas are coming in the following weeks, such as a sandstone sand wall separating the kickabout area and the basin.
Near the finished playground is a stormwater management basin currently under construction, estimated to be completed by August 2023. The project contractor is Hibernian Contracting Pty Ltd.
Dr Peter Gangemi, accompanied by Ming Lau from the North Kellyville Advocacy Group, opened the finished playground to the community. 
"Kumbatine Crescent Reserve joins a number of recently completed pocket parks adjacent to stormwater management basins in North Kellyville, including McMillian Circuit Reserve, Barry Road Reserve and Deepwater Circuit Reserve.
 "With Withers Road Reserve, Samantha Riley Drive Reserve and Stringer Road Reserve also under construction, the completion of this park is a fantastic achievement and demonstrates Council's commitment to expanding its recreational network in North Kellyville. Thank you to Ming, the North Kellyville Advocacy Group and local residents for your support of this project," Mayor Gangemi said in a Facebook post on 7 July.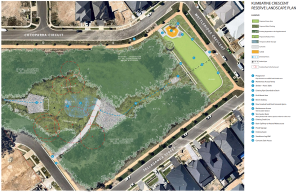 The Kumbatine Crescent Reserve Landscape Plan.
The Cocoparra Cct, Wattlerridge Cres, Tallaganda St, and Kumbatine Cres border Kumbatine Crescent Reserve.
Image credit to Hills Shire Council and Dr Peter Gangemi – Mayor of the Hills Shire.