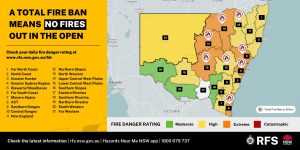 According to the NSW Rural Fire Service, the Greater Sydney Region will have another Total Fire Ban on 3 October 2023.
The Fire Danger Rating on Tuesday is EXTREME, indicating a possibility of a dangerous bushfire to occur. It is advised for individuals to prepare their property and be alert to take urgent action should a bushfire occur on their property or nearby. Travel must be reconsidered when going to fire risk areas.
According to the Ban's guidelines, general-purpose hot works such as welding, grinding or gas cutting, and any other activity that produces a spark or flame or is likely to cause a fire are strictly prohibited.
"Bush fires are more likely to spread and cause damage on days when the weather is very hot, dry and windy. These are usually on days when the fire danger rating is Extreme or Catastrophic," the guideline read.
Sydney is one of eight regions with a Total Fire Ban in force on 3 October: the North Western, Northern Slopes, Upper Central West Plains, Lower Central West Plains, Central Ranges, Greater Hunter, and the Far South Coast.
As per reports from the Bureau of Meteorology, the forecast for Tuesday will reach a maximum of 33 ° Celsius, with winds north to northwesterly reaching 15 to 20 km/h and further increasing to 25 to 40 km/h in the late morning.
This weekend, the NSW RFS declared a TOBAN on 1 October after reports of hot, dry, and windy conditions. The maximum temperature on Monday was forecasted to reach 36° Celsius.