[vc_row][vc_column width="1/6″][us_image image="67175″ size="full" align="left" style="circle"][/vc_column][vc_column width="1/6″ offset="vc_col-lg-4/5 vc_col-md-4/5 vc_col-xs-4/5″][vc_column_text]By
Ivor Jones
[/vc_column_text][us_post_date][/vc_column][/vc_row][vc_row][vc_column][vc_column_text]
NOW IT'S 2023 and the post-Christmas and New Year Sales are over, many may have purchased gifts and other goods from t he various on-line retailers.
In this little piece I intend to look at what many did back in the late 1800's and early 1900's. In those days before the internet and mobile telephones if you wanted to purchase the latest innovation, appliance or fashion and lived in an outlying area away from the main city centres you would rely on mail order catalogues.
Printed catalogues first appeared in 1498 when Aldus Manutius of Venice printed a catalogue of books he was printing and distributed them to customers, whilst in 1667 English gardener William Lucas printed a seed catalogue containing prices which he distributed to his clients. One early cataloguer, in 1833, Antonio Fattorini started a watch club in Bradford, England which eventually transformed into the British retail chain store group of Empire Stores.
But the first "mail order" catalogue was created by Welsh retailer Pryce Pryce-Jones (Yes that was his name) of Newtown, Wales who had acquired a drapery in 1856 and had named the drapery the Royal Welsh Warehouse selling local Welsh Flannel. In 1861, using the uniform Penny Post service in the UK which had been established in 1840 with the invention of postage stamps, he turned his small drapery business into a major retailing business by sending his catalogues to people throughout the UK and, eventually, to North America and the British colonies amassing 200,000 customers around the world including Queen Victoria, Florence Nightingale, European Royal households and the then Princess of Wales amongst many others.
Catalogues proved to be a boon to quite a few retailers such as department stores. You would order or subscribe to stores such as Farmers or Anthony Hordens in Sydney. Each major city would have similar stores such as Boans in Perth, Myer in Melbourne, Fitzgeralds in Hobart etc. These stores would send you a catalogue to peruse. These city-based stores gained hundreds of new customers from rural areas.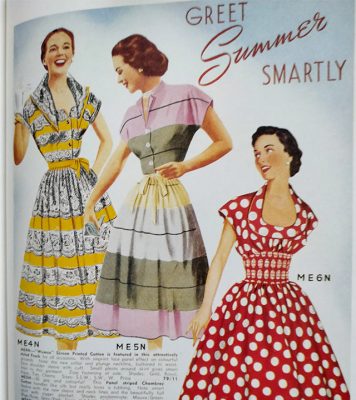 How did these retailers get their customers from the outlying areas? Well, as the saying goes, "It pays to advertise". They placed ads in newspapers and magazines which circulated in those areas from where they sought new customers.
Some retailers targeted certain types of customers with their ads and catalogues. Farmers department store for example had separate catalogues aimed at men and women as well as general catalogues aimed at the entire family. Many retailers still place ads in publications where they hope to grow their market share.
As their sales increased with the growth of customers, it enabled the retailers to gauge where they may benefit from opening branch stores. The 1920's and 30's saw some growth with stores such as Grace Brothers expanding from their Broadway location in Sydney to Parramatta and Bondi Junction.
Other department stores such as Mark Foys, Marcus Clarkes and McDowells followed suit and also spread out into the suburbs. Some further expansion of the Department store chains came about from acquisition of other large stores in country areas or interstate and outlying suburbs.
Grace Brothers, for example, acquired JB Young of Canberra and Queanbeyan who had also taken over the NSW Country chain of John Meaghers. They were eventually converted to Grace Brothers for a couple of years until the Myer Emporium acquired Grace Brothers re badging the JB Young stores and Grace Bros stores to Myer.
Myer also took over Farmers and the country chain of Western Stores. Anthony Horderns and Murdochs, which was situated on the corner of Park and George Sts, were acquired by Waltons. By the end of the 20th century, after a series of mergers and acquisitions and the introduction of online retailers, there were only two major Department store groups operating in Australia, that of Myer and their rival David Jones. The old names of many retailers have now been consigned to history and are just a memory for many.[/vc_column_text][/vc_column][/vc_row]