The Cumberland State Forest is one of the most magical places in North West Sydney. It is Australia's only metropolitan forest and consists of 40 hectares of natural forest offering a tranquil experience for visitors away from the hustle and bustle of modern city life.
Hidden within Cumberland Forest sits Tree Tops Adventure. The Hills is one of 15 Tree Tops parks around Australia offering exciting and challenging obstacle courses high up in the tree canopies. Tree Tops Adventure The Hills is a 5 minute walk from the administration centre that takes you along a peaceful forest trail until you reach your destination and lay eyes on the obstacle courses for the first time, evoking different emotions from different people.
For my brave, thrill-seeking eight- year-olds, there was sheer excitement at tackling the courses especially the harder and higher ones whilst my reaction was slight trepidation knowing completing the courses would mean facing my phobia of heights!
The rope courses are constructed from wooden platforms sitting around the tree trunks, to ensure the native trees aren't damaged and continue to grow. However, between each tree platform is a different obstacle that needs to be completed to reach the next platform.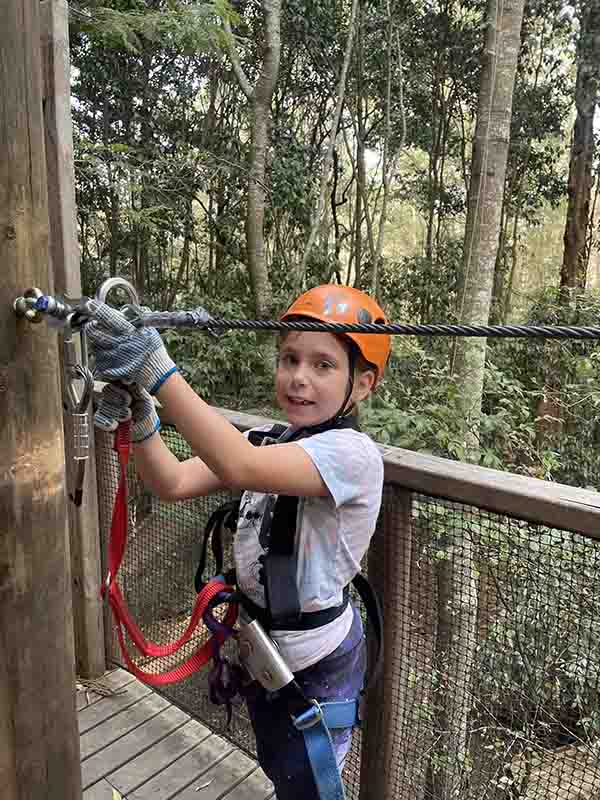 Obstacles include different length zip lines, cargo nets, tight ropes, wobbling bridges, ladders, tunnels, suspended rafts, trapezes and Tarzan swings just to name a few! The obstacle courses range in difficulty levels from easy, medium, hard and extreme with each course getting more and more tricky as your confidence and skills grow.
There are also junior courses for children under 8 that only require parent supervision from the ground whilst the harder courses require children under 16 to be with a participating parent. Each session is 2.5 hours long after a 30-minute induction session which includes putting on harnesses and helmets as well as a safety training session with the very friendly and helpful Tree Tops staff.
After this you're on your way to swinging, leaping, climbing and flying through the beautiful Cumberland State Forest as you navigate the various obstacle courses. The views of the Forest up high are amazing and reinforce the importance of the Forest for our rapidly growing community in this part of Sydney.
Tree Tops was challenging and we were absolutely exhausted by the end of our session however, my eight-year-olds can't wait to go again and explore more of the more difficult courses!
We also look forward to experiencing different courses at Tree Tops Western Sydney Parklands as well as Tree Tops Yarramundi located at the foot of the Blue Mountains when it re-opens. For more information on Tree Tops Adventure The Hills go to https://treetopsadventure.com.au/location/nsw-the-hills/