Community sports rely heavily on family and volunteers to make things work, and there is no better example in the Hills than the Connell family.
Parents Dylan and Karen Connell, who were athletes during their schooling and beyond in other sports, are committed volunteers at Cherrybrook Athletics thanks to their children Zoe, 13, and Immy, 10 who have been training here for the past four years.
Both Dylan and Karen are age managers at CA which has produced several Australian and international champions over the years.
Zoe, who also plays football, joined CA along with her younger sibling. Zoe has competed in discus at the regional level while Immy, who is also a gymnast and football player, is the state discus champion for the past two years. She has also competed at NSW level in shot put and high jump.
Immy underlined her growing confidence by winning gold in discus and silver in shot put at the recent Athletics NSW Primary Schools challenge.
Dylan previously competed in Little Athletics at Kuring-Gai for a few years and also represented his high school while Karen represented her high school and was school age champion in athletics but never did Little Athletics herself, which she regretted.
When their children started doing athletics, they and CA – which is open to athletes of all ages, with a strong Seniors/Masters team – strongly encouraged Dylan to get back into it despite the long layoff.
Karen then saw other parents doing it and said to herself: "I can do this too!"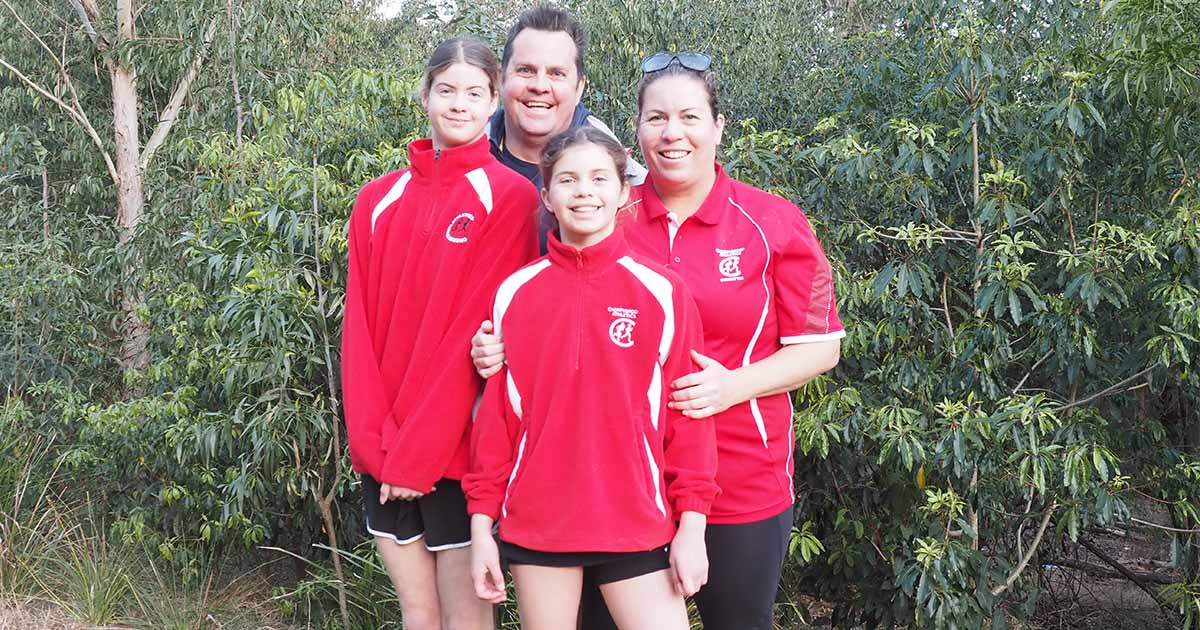 Dylan's first event for the club was the NSW Masters where he won gold in his 40-44 age group in shot put while breaking the alltime club record. He continues to break club records while competing in Masters Nationals and Masters Indoor State and Nationals throwing events, and is an inspiration to other members.
Karen is keen complete for the club for the first time as she pushes herself to reach new heights in her renewed athletic career.
"From the time the kids started at Cherrybrook we were always happy to help," Karen said. "Since then, we both became Age Managers as we understand athletics. It's great to be involved at the grassroots level, teaching young athletes basic skills and watching them progress in both ability and confidence. The girls have made some great friends through the club and so have we!"
They love Cherrybrook Athletics Club, with Dylan saying: "It's a very welcoming club where people of all ages and abilities and able to participate and compete. Friday nights are always fun and a great end to the week, no sunburn either!"
With a growing number of children and their parents all competing for Cherrybrook Athletics, the Connells encourage people of all ages to give athletics a go: "Don't worry about age and fitness, have a crack at it and see what happens!"
Registrations are still open for all ages – young or old – through Cherrybrook Athletics (https://www.cherrybrookathletics.org.au/)