[vc_row][vc_column width="1/6″ offset="vc_col-lg-1/5 vc_col-md-1/5 vc_col-xs-1/5″][us_image image="67486″ size="thumbnail" align="left" style="circle" has_ratio="1″][/vc_column][vc_column width="1/12″ offset="vc_col-lg-4/5 vc_col-md-4/5 vc_col-xs-4/5″][vc_column_text]By
Lawrence Machado
[/vc_column_text][us_post_date][/vc_column][/vc_row][vc_row][vc_column][vc_column_text]MICHAEL PAYNE, the youngest swimmer to complete a solo crossing of the English Channel, has won the Hawkesbury Special Achievement Award at the 2022 Australia Day Awards Ceremony.
Michael was just 17 years when he completed the arduous 32km swim in very cold temperatures in July 2022. The brave Colo High School student overcame strong currents, waves, and cramps to reach Cap Griz Nez, France, in 12 hours, and 48 minutes.
Swimming the English Channel is one of the world's most famous achievements, and to prepare for his biggest test, the Nepean Aquatic Centre SC star trained hard under coach Jackie Barck in the company of his team mates.
Michael also swam in Lake Wallace, Wallerawang near Lithgow, to get used to swimming in cold conditions. Sessions in the Nepean River in Penrith and Windsor also saw him tackle muddy conditions with floating debris in preparation for his channel marathon.
Noah Kemp with the Hawkesbury Mayor Sarah McMahon He received the Special Achievement Award during the recent Australia Day celebrations hosted by Hawkesbury City Council, along with other winners.
"Always looking for another challenge, Michael made a formal application to swim the English Channel in 2022," Hawkesbury Council said during the awards ceremony.
"Swimming the English Channel is considered one of the ultimate challenges for long-distance swimmers. It is a test of physical and mental endurance. The cold water, strong currents, and waves make it an incredibly difficult swim."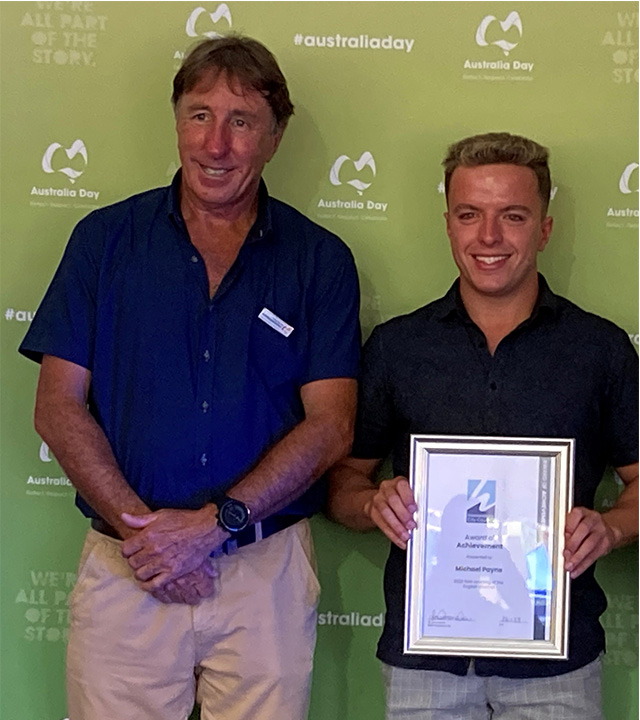 [/vc_column_text][/vc_column][/vc_row]