[vc_row][vc_column width="1/6″ offset="vc_col-lg-1/5 vc_col-md-1/5 vc_col-xs-1/5″][us_image image="67486″ size="thumbnail" align="left" style="circle" has_ratio="1″][/vc_column][vc_column width="1/12″ offset="vc_col-lg-4/5 vc_col-md-4/5 vc_col-xs-4/5″][vc_column_text]By
Lawrence Machado
[/vc_column_text][us_post_date][/vc_column][/vc_row][vc_row][vc_column][vc_column_text]Ten years ago, Phillip Giles started volunteering at his local club so that his son could start playing football. Today he is celebrated as Hawkesbury's Volunteer of the Year and is completely bowled over by the unexpected honour which was conferred on him at the 2023 Australia Day celebrations.
The Bligh Park FC president, who is scheduled to receive his award from the Hawkesbury Council this week, said awards were furthest from his mind when he began volunteering.
"It was a huge surprise to be chosen because you know we volunteer because we want to help our local club or community and not for any rewards," Giles, 44, said. " To be recognised in the Hawkesbury is something I never expected. I am so honoured to receive this recognition."
Father of four, Phillip joined Bligh Park FC because his eldest son, Bailey, now 14, wanted to play football.
"I got involved in football when Bailey wanted to play," the long-time Bligh Park local told us. "I don't play anything anymore as it takes too long to recover for me. Now it's all about my kids and developing juniors and I am also involved in Little Athletics. I've been a member of BPFC for 10 years now and on the committee for nine.'
Giles quickly found his mojo in BPFC, and has been president for the past eight years. He is now a well-recognised figure among the footballing circles.
His wife Amity runs the canteen at BPFC which has around 100-200 members, with the club punching above its weight in competitions.
Giles is passionate about offering the youth of Hawkesbury every chance to play football, offering the Bligh Park facilities and grounds to all local teams when other clubs lost their fields due to flooding.
When he is not working, spends his time at the grounds talking to the youngsters and members to find out what can be improved. He also ensures that the facilities are clean and professionally looked after.
"The club needs anywhere from 10-20 volunteers each game day and we welcome new members," Giles said. "The best part about volunteering is when you see players develop not just at football but as people."
To contact Bligh Park FC, visit their Facebook page or website: https://blighparkfc.com.au/.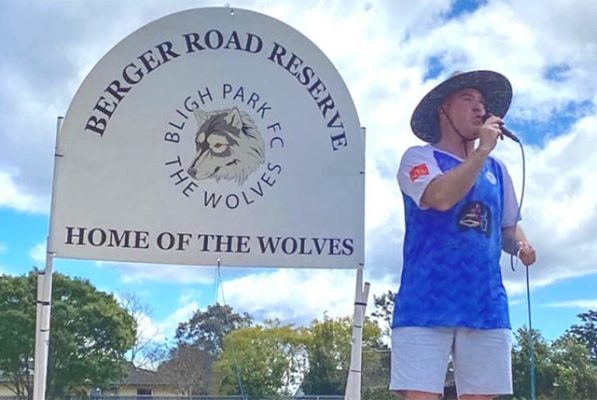 [/vc_column_text][/vc_column][/vc_row]