[vc_row][vc_column width="1/6″ offset="vc_col-lg-1/5 vc_col-md-1/5 vc_col-xs-1/5″][us_image image="67486″ size="thumbnail" align="left" style="circle" has_ratio="1″][/vc_column][vc_column width="1/12″ offset="vc_col-lg-4/5 vc_col-md-4/5 vc_col-xs-4/5″][vc_column_text]By
Lawrence Machado
[/vc_column_text][us_post_date][/vc_column][/vc_row][vc_row][vc_column][vc_column_text]NOAH KEMP is a phenomenal sports ace who is the number one swimmer in Australia in his age group and a champion athlete to boot.
Noah is unbeatable in swimming and athletics in his age group with a swag full of gold medals plus national and state records. From the age of seven, Noah has blazed a magnificent trail at Hawkesbury City Little Athletics Club and Windsor Swim Club outclassing virtually everyone on the track and in the pool.
The 11-year-old Noah was recognised for his countless records with the Junior Sports Person of the Year Award at the 2023 Hawkesbury Council Australia Day honours.
At the 2022 Swimming NSW Championships, Noah won six gold medals and set two NSW records. Following his amazing feats, Noah was ranked first in Australia (in his age group) for the 100m freestyle, 100m butterfly, 100m backstroke, 50m freestyle, 50m butterfly, and 50m backstroke. At the 2022 Swimming NSW Short Course Championships, Noah won a total of eight medals, six gold, and two silver.
Two of the swim records he has broken had been untouched for more than 24 years showing that this youngster is set for bigger things. He is the first 11-year-old Australian to go under 30 seconds in both the 50m butterfly and 50m backstroke events.
One of Noah's champion qualities outside the pool and track is to help and encourage his competitors. He wants to make it to the 2032 Brisbane Olympics, and if he maintains this stupendous form, we should be hearing more about this exceptional swimmer.
Noah won gold medals in all seven events he contested at the 2022 School Sport Australia Championship in Brisbane, to be named Male Swimmer of the Meet. He also set four NSW records at this event.
To put his sporting achievements into perspective, consider this: Noah holds 26 State and NSW All-Comers records, three Queensland All-Comer records, four NSW Metropolitan records, in addition to countless Metro North West, Windsor Swimming Club and Hawkesbury District records.
The youngster with the golden touch is also a three-time Hawkesbury District Swimming and Hawkesbury District Athletics Champion.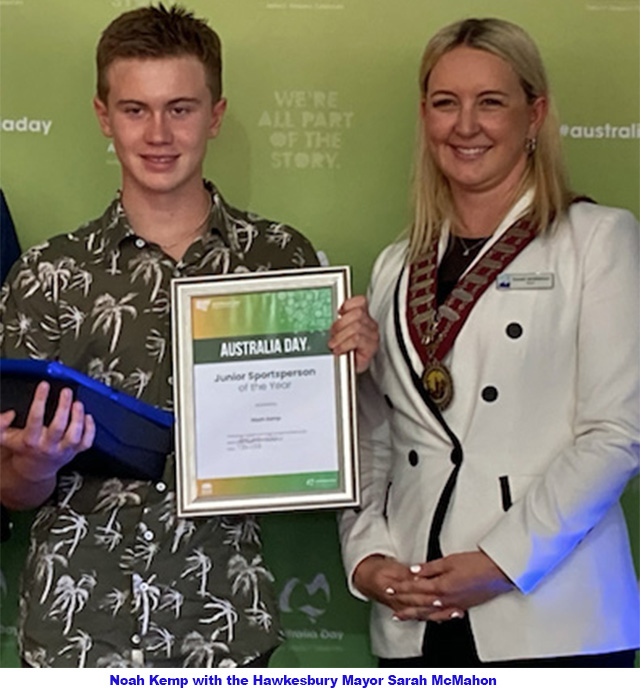 [/vc_column_text][/vc_column][/vc_row]