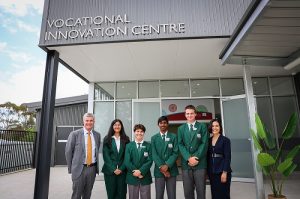 The newly-built Vocational Innovation Centre in Seven Hills High School opened its doors on Thursday, on the 2nd of November, 2023.
Deputy Premier and Minister for Education and Early Learning Prue Car, along with Minister for Skills, TAFE and Tertiary Education Steve Whan, officially opened the purpose-built facility on Week 3, Term 4 of the School Calendar.
The VIC offers four general learning spaces and specialist workspaces where students will learn about electrotechnology, logistics, plumbing and clinical health.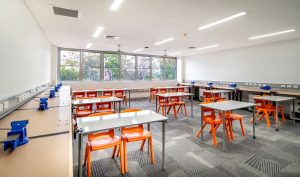 It will benefit not just Seven Hills but also local high schools such as students from Castle Hill High School, Doonside High School, Graystanes High School, Riverstone High School, The Ponds High School and Wyndham College.
The Vocational Innovation Centre will give high school students the chance to progress into apprenticeships, traineeships, and trade qualifications, acquire tertiary education at TAFE NSW or university, or develop vocational skills.
Located at Johnson Avenue in Seven Hills, the facility offers vocational courses in Community and Health Services, Construction (Electrotechnology and Plumbing), Transport, Logistics and Warehousing, providing students the chance to have relevant onsite training and enhance their skills.
Students can supplement their studies with vocational courses in business, finance, retail, digital media, and IT.
Informed by the employment demand in Western Sydney, industry engagement is a core feature of the initiative, and additional skills will be added in the future.
Courses offered at the Centre are for Year 11 and 12 students. All courses count towards HSC and related VET qualifications.
Total Construction Pty Ltd commenced the facility's construction in early September 2022, with PMDL Architecture & Design Pty Ltd being its designer.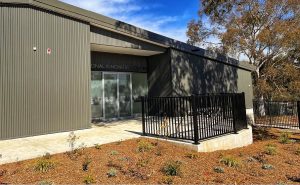 Deputy Premier, Minister for Education and Minister for Western Sydney Prue Car said the Minns Labor Government is dedicated to providing students more opportunities for vocational learning, giving them the chance to pursue their desired careers.
"This is an exciting moment for students from Western Sydney who will be able to take advantage of state-of-the-art learning and training facilities to skill themselves for the jobs that local employers are looking to fill.
"This includes enhancing access to high-quality VET courses in schools, school-based apprenticeships and traineeships, and HSC pathways.
"The sky is the limit for our local students, and I can't wait to see how they make use of this new Vocational Innovation Centre to achieve their goals."
Minister for Skills, TAFE and Tertiary Education Steve Whan said the future economy will require hundreds of thousands of skilled workers in high-demand careers.
"Cutting-edge resources and courses will be delivered in school by excellent TAFE teachers and school VET teachers. High school students will access opportunities that pave the way to a great future for the student and a better-skilled workforce.
"The NSW Government is focused on improving access to vocational education for school students and empowering our students to acquire vital skills and knowledge to thrive in their academic journeys and beyond."