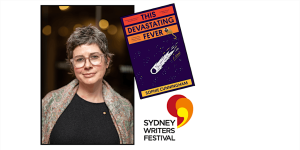 On the 27th of May, 2023, author Sophie Cunningham will discuss her most recent novel, This Devastating Fever at the Castle Hill Library.
Her novel was shortlisted for the 2023 Victorian Premier's Literary Awards. Cunningham also wrote other books such as the City of Trees essay collection.
She will be joined by award-winning writer-editor Ashley Hay, who wrote novels such as A Hundred Small Lessons (2017), The Railwayman's Wife  (2013), and Body in the Clouds (2010).
The discussion will last from 11 am – 12 pm. The Castle Hill Library is located at 14 Pennant St. Castle Hill, NSW.
Tickets cost $8.20PP and can be purchased online here: Sydney Writers' Festival with Sophia Cunningham
Source: The Hills Shire Library Service