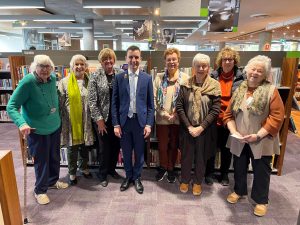 On the 11th of May, Mayor Peter Gangemi attended as a guest speaker at the Friends of the Hills Library's monthly meeting.
According to his Facebook post today, "I spoke about the future of The Hills Shire, and in particular the range of upgrades planned for parks, sports fields, roads, intersections and footpaths."
The Friends of The Hills Library, formed in 1994, is a volunteer group intending to bring "people together who enjoy social outings, guest speakers and have a love of libraries."
The group has already gathered $190,065 to fund new library equipment, purchase new books, and initiate programs.
The Friends meet at Castle Hill Library every 2nd Thursday of the month. Membership costs $12.00 and can be paid by cash at their meeting or through their group treasurer. Membership forms can be acquired at one of The Hills Shire Library branches.
Take a look at their meeting schedules here: Friends of the Hils Library
Source: Dr. Peter Gangemi – Mayor of The Hills Shire Council, The Hills Sydney Garden Shire
Image sourced from Dr. Peter Gangemi – Mayor of The Hills Shire Council