[vc_row][vc_column width="1/6″][us_image image="67082″ size="full" align="left" style="circle"][/vc_column][vc_column width="1/6″ offset="vc_col-lg-4/5 vc_col-md-4/5 vc_col-xs-4/5″][vc_column_text]By Leonie Dixon[/vc_column_text][us_post_date][/vc_column][/vc_row][vc_row][vc_column][vc_column_text]
Alive 90.5 celebrated our 30th anniversary in style at Castle Hill RSL. There was so much to share with members and friends, with the longest serving volunteer, John Robb, still presenting his show after 30 continuous years at the microphone.
Proceedings got underway when Tony Jenkins, a former Chairman of Alive introduced Graham Johnson who spoke about his experiences in setting up the station as well as getting the Studios operational. We were delighted that the Parramatta Lord Mayor, Donna Davis and The Hills Mayor, Peter Gangemi, were able to attend and assist in the presentation of awards.
Service awards for 5- 30 years were presented by the mayors and it was almost like the Academy Awards without the red carpet for the next categories. The following people were acknowledged with trophies, certificates, wine and chocolates. Youth Presenter of the Year was Karenza De Leon, Male Presenter- Shehan Fernando, Female Presenter- Karenza De Leon, Cultural Show- The Forgotten Samoans, Best New Show- The HDD Show and The Golden Mic Award went to Jack Bylsma.
Andsley Dennis, the current Chairman presented his Awards for Outstanding Contributions of 5 hardworking volunteers Fiona Mary Berry, Leonie Dixon, Aparna Vats Graham Johnson and Mario Bekes. Andsley prides himself on the amazing team effort so many of the volunteers have contributed to the success and progress of Alive over the last 30 years.
The Archives reveal many of the achievements as reported in the local media. Federal Member for Dundas, Philip Ruddock was instrumental in encouraging Hills residents to become involved in a new community radio.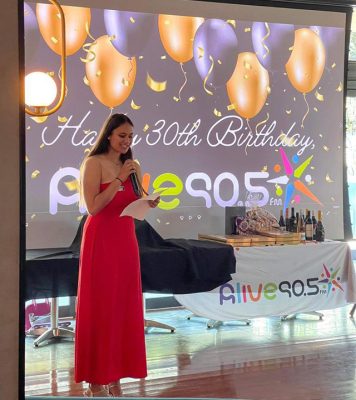 Glenn Coddington was pictured in the Hills Shire Times manning the control panel for Cumberland Community Radio West in February 1986 making us the only station to broadcast to three local government areas. Kerima-Gae Topp had Frank Ifield as a special guest on her juke Box Live program in September 1988, Mosa Gherjestani's Hazara show went to air in 1998 to give a voice to Persian people in Merrylands with at least 500 families listening in each week.
Chris Cunliffe-Jones turned up the heat on public transport issues in the community encouraging people to speak up in the forum on 2CCR FM.
Tony Jenkins gave 25 media students the chance to learn about broadcasting in a handson way during his tenure as station manager and chairman.
After repeated licence renewals every 4 years, 2CCR has emerged with a new name – Alive90.5 and this year a new logo. The Hills Council keeps updating the broadcasting premises in the Balcombe Heights Estate and volunteers contribute enormous amounts of time to the technology needed to make us sound really good over the radio but also on many platforms these days. Best of all we're the Alive family for our community.[/vc_column_text][/vc_column][/vc_row]