Having a few laughs with friends is always a good idea but the Comedy For A Cause Event at Castle Hill RSL on Friday, May 5th has a serious intent behind it.
The comedy showcase is a major fundraiser for RuffTRACK charity which has been making a huge difference to troubled youngsters in the Hawkesbury region for over four years with the help of dogs. 
Founded by Farmer Dave (Dave Graham) at a Riverstone farm it has helped over 80 kids aged between 12 and 17 in the past four years by bonding them with dogs and working with them over a 10-week program. 
One group (pictured) has just finished a packed 12-days showing off their dogs and new learned skills at the Royal Easter Show where they held 108 demonstrations.
Farmer Dave has spent his life with dogs and farm animals and he knows the power they have to trigger change in people.
"When you see a kid and dog bond, that is magic. Animals create doorways that don't exist and allow us to be able to break down barriers and increase kindness, compassion and healthy communication," he said.
Dave had been involved in the BackTRACK program set up by Armidale by Bernie Shakeshaft in Tamworth when he was approached to run a local program in the Hawkesbury by Hawkesbury Youth Liaison Officer Constable Belinda Flynn.
"The need for this program in the Hawkesbury area was so evident," said Dave. "This type of program is all about the future and how to make change happen."
The RuffTRACK team are working with disengaged youngsters to give them skills, a sense of worth and reconnect them with their community.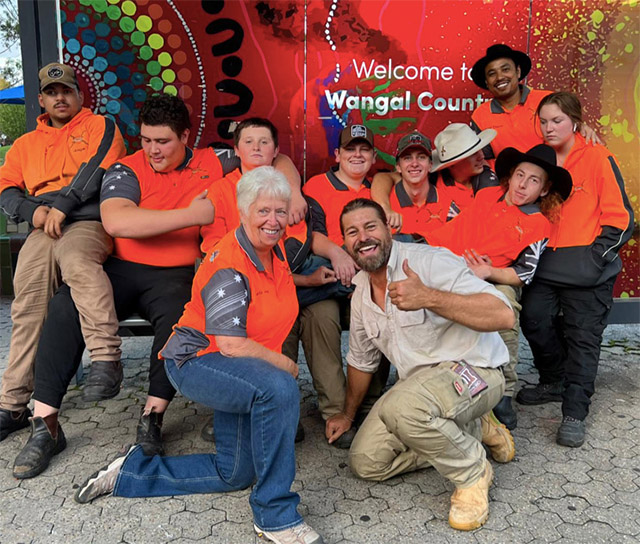 At the "heart" of the program are the dogs which each participant gets to choose and is paired with throughout the program,.
"It is through that dog they can understand about healthy relationships, kindness, compassion and compatibility," says Dave. "They understand that there is no place for violence in a relationship. They do sheep herding with their dogs to understand that if you work alongside your mate you can achieve things. The dogs are a bridge for kids. When you can take violence out of the toolkit of a kid you can take violence out of society."
The results have shown increased school attendance, a decrease in police contact, a reduction in family violence and attendance at events.
At the moment there are 25 youngsters on the RuffTRACK program with new students coming in every term. There are currently 55 on the waiting list.
It costs $4000+GST to support a participant through the 10 week program. As well as raising money to support teenagers through the program RuffTRACK is working hard to raise $3million to buy its own farm in the Hawkesbury region to expand the program.
According to Hawkesbury Police there has been a 65% success rate with youngsters it has placed on the program.
RuffTRACK has just received a grant to run a coffee and food trailer at local markets and its own shows to help its participants gain skills in customer service and hospitality and so improve their employment opportunities.
If you want to know more about RuffTRACK visit www.rufftrack.com or visit its Facebook Page. If you want a good laugh book a ticket to the comedy night on Friday 5th May at Castle Hill RSL.