[vc_row][vc_column width="1/6″][us_image image="67175″ size="full" align="left" style="circle"][/vc_column][vc_column width="1/6″ offset="vc_col-lg-4/5 vc_col-md-4/5 vc_col-xs-4/5″][vc_column_text]By
Ivor Jones
[/vc_column_text][us_post_date][/vc_column][/vc_row][vc_row][vc_column][vc_column_text]During the earliest days of this publication when it was named "Hills District & Toongabbie TV Guide & Entertainment Magazine", there were a few fellow columnists providing informative news and comments whom I fondly recall.
I have very fond memories of the late Ron Jones who wrote under the name of "Allegro" and Jennifer Touzel, daughter of the founder and publisher of the magazine who later also became the Editor. Another well known columnist at the magazine was the renown horticulturist, the late Valerie Swane from Swane's Nursery at Dural.
Valerie, at that time, was also Managing Director of Swane Bros. Nursery at Dural. And was a contributor to the magazine throughout the 1980s until her death in February 1993.
Valerie's articles on gardening were always very popular with our readers as the district was also known as "The Garden Shire" with numerous garden nurseries throughout the Greater Hills district. She also wrote columns for the "Sunday Telegraph" from 1981 and features for the "Australian Women's Weekly from January 1989. As she became increasingly ill she was assisted by her sister, Elwyn, in 1992. She was also known for her radio programme on 2BL on which was broadcast each Sunday from 1985 until she became ill.
Valerie had wanted to be a history teacher but her father opposed this as a choice of career, and she attended a Secretarial College after which she had a brief stint of working at Penfolds Wines and also an aluminium company in London, before starting work for the family company. After marrying in 1966 she purchased a large block of land at Pennant Hills, built a house and established a beautiful garden. She then became a lecturer at the University of NSW and the first woman President of the NSW Branch of the Australian Nurserymen's Assocn in 1975. Her marriage was dissolved in 1976.
She was asked by the Sisters of Mercy to name a rose for Catherine McAuley, the founder of their order, which she did in November 1992 just two months prior to her death. Following her death, a perfumed, white, cream centred rose was named Valerie Swane in her honour.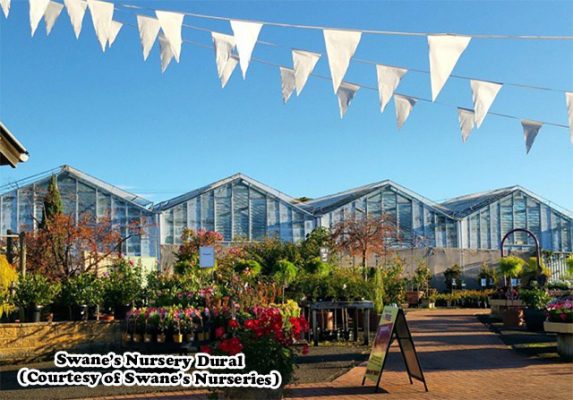 The family company Swane Bros. began in 1919 at a site on the banks of the Parramatta River at Ermington where brothers Ted and Tim Swane grew fruit trees for sale to orchardists.
They hoped to sell the trees to large garden nurseries but the sales did not eventuate. It was decided that Ted would travel to Melbourne to meet with citrus buyers. The first buyer that he met was so impressed that a grower would actually come to see him he contacted other buyers and invited them to come and meet young Ted Swane. This then led to hundreds of thousands citrus trees being shipped from Swane Bros. to Victoria over the next thirty years and only ceased when the nurserymen at Swane's joined the Army in 1941.
The partnership of Ted and Tim ended when Tim decided to go into a new venture in the mining industry. Ted continued with the nursery business assisted by his wife Gwen. In 1945 Ted's son. Ben joined his father and was later followed by siblings Valerie, Geoff and Elwyn.
The 1960s saw the introduction of steam cleaning of soil but this method could not be fully exploited at the Ermington site due to lack of space so a move to larger land holdings at Dural was undertaken and there Geoff Swane set up a fruit and rose tree growing section.
Three years after setting up the Dural operation the Ermington site was sold. A few years later, a further expansion of Swane Bros took place with the purchase of an even larger site of 130 acres at Narromine in Western NSW primarily used for the promulgation of roses.
Swane Bros Nursery is no longer owned by the Swane family after being sold in 2000.[/vc_column_text][/vc_column][/vc_row]