The Mitchell Youth Leadership Forum is a two-and-a-half-day live-in program for Year 11 students who reside in or nearby the Mitchell Electorate. Students are generally nominated by their schools and the program is strongly based around the values of service to others, integrity and courage.
Alex Hawke, Federal Member for Mitchell reported the following at the conclusion of the event
"After the past two years with restrictions due to COVID-19 and having to find a new site to host the Forum, the 2022 Mitchell Youth Leadership Forum held on 13-15 October at the YMCA, Yarramundi was an incredible success.
The Together with Tristan Smith, Chief Executive Officer, it was a privilege to host another 150 student leaders from across 16 schools at the 21st Mitchell Youth Leadership Forum.
The students who attended brought an immeasurable amount of energy, enthusiasm, and passion to the Forum. It was incredible to watch their growth throughout the forum and I can't wait to follow their success back at their schools and within our wider community.
Students participated in team building activities, small group discussions, and a community service project at Aminya Village and McCall Gardens and listened to inspiring talks from Shane Fitzsimmons AO AFSM, Kylie Captain, Matt Caruana, Matt Kershaw and Barnaby Howarth.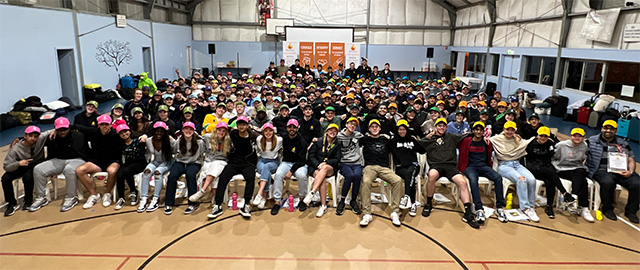 I would like to thank our devoted volunteer team consisting of over 70 leaders and committee members who work tirelessly throughout the year and over the 2.5 days to support these students. Their passion and dedication in developing the next generation of leaders is nothing short of admirable and the Mitchell Youth Leadership Forum would not be possible without them. These leaders are exceptional examples for the students and display the forum's values of service, integrity and courage throughout their daily lives.
We would like to thank our valued sponsors; our major sponsors, Nature's Sunshine Australia, Castle Towers, and sponsors; AMICUS, School Bytes, Redeemer Baptist School and The Hills Lodge for their continuing commitment to the future of our student leaders.
I would also like to thank Smiling Bakery, North West Growers, and Swift Consulting for their community support to the Mitchell Youth Leadership Forum."
For further information on the Mitchell Youth Leadership Forum visit www.mitchellylf.org.au