Some of the team on this journal are associated with the historic property of Bella Vista. Naturally, we care for the preservation of its heritage. Many years the property was left vacant and started to rot and decay. Due to its isolation, it also became a haunt of drug dealers who used it to distribute drugs to addicts.
The Heritage Council of NSW took control of the property in the early 1980s and decided to advertise for a caretaker in 1982. A British migrant from Yorkshire decided to apply and was interviewed by Justice Hope on behalf of the Heritage Council.
That person was Len Ward, born in Middlesborough, Yorkshire in Capt. Cook's home district and went blackberry picking at the village of Great Ayrton where Capt. Cook had attended school.
Len first arrived in Australia in 1951 after he signed up in England to join the Australian Army and after six years he then worked in a number of different occupations where he worked on sheep stations, shark fishing and working on the Snowy Mountains Scheme. He spent twenty five years in these jobs until he decided to apply for the position of Caretaker at Bella Vista.
Len had a reputation of being a bit of a story teller and much that he may have said could be taken with a grain of salt. However it is true that some of the going ons at Bella Vista did in fact happen whilst the property was under his watchful eye.
Len's residence during his period at Bella Vista was a caravan situated on the property. lnially he had no electricity but only candles for lighting until a diesel generator was installed. Les said he was reluctant to use the generator, as it consumed two gallons of diesel an hour.
The property had become overgrown and redbellied black snakes could be found basking in the sun. In fact Les claimed to have been bitten on at least three occasions and said that he had never called a Doctor "I self-medicated by sweating it out" he said.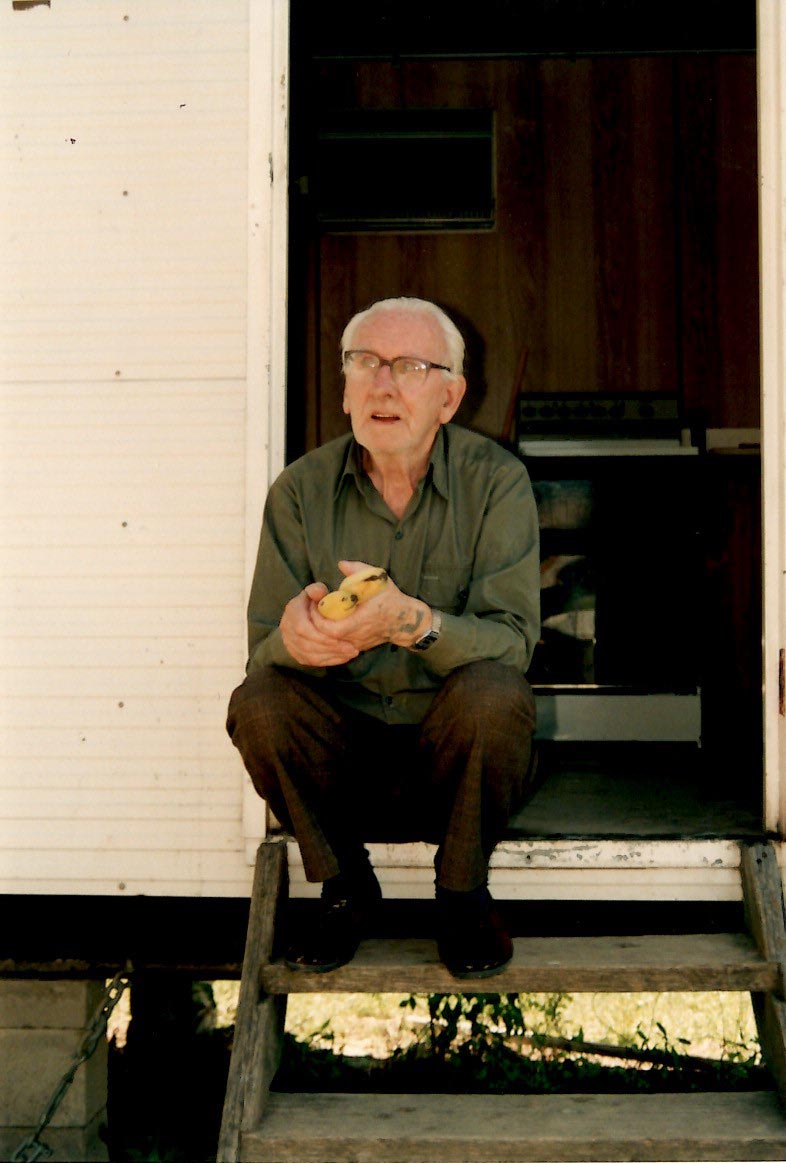 Len's main concern however were the "Druggies" who had been using the property to distribute drugs and vandals who would ride mini-bikes around the homestead and throw stones smashing windows as they rode past.
Some of the drug dealers and vandals would also be armed with shots being fired at him. He had a pet dog who would walk alongside Len that was hit and a distraught Len had to "Finish it off". Local vandals had also battered to death 175 geese and two pet deer were shot.
Len thought that he would also try to get the local politicians involved to help curb the violence that occurred at Bella Vista and as I reported in this magazine back in July he approached local MP Wayne Merton who raised the matter in the NSW Parliament and convinced the State Government to give a State Heritage Grant and provide assistance in the preservation of the property.
Len decided to get the local schools involved to assist in curbing the vandalism by having meetings with students and parents and getting involved in projects on the history of Bella Vista. Schools groups started to visit the farm and a greater respect was engendered within the community of the history of the farm and its importance.
Len's most frightening experience at Bella Vista was during a storm in 1988 when a lightning strike overturned his caravan one night. His leg pouring blood from a gash he eventually clambered out of his van and stumbled almost a kilometre to Old Windsor Rd to stop a car to take him to hospital.
Len retired back to the UK in April 2004. Much of what Len started at Bella Vista has been carried on by the members of "Friends of Bella Vista Farm" who hold a monthly open day on the first Sunday of the month during which members of the public can visit the farm and also undertake tours of the homestead.
Much restoration has been undertaken by the "Friends" and money raised by the "Trash and Treasure Stall", the sale of Devonshire Teas and the house tours is put towards the restoration of the property and the feeding of the sheep.
As I said some of the people who bring you this journal very fortnight are asl associated with "Bella Vista" and I hope to see you there one day.