[vc_row][vc_column width="1/6″][us_image image="67175″ size="full" align="left" style="circle"][/vc_column][vc_column width="1/6″ offset="vc_col-lg-4/5 vc_col-md-4/5 vc_col-xs-4/5″][vc_column_text]By
Ivor Jones
[/vc_column_text][us_post_date][/vc_column][/vc_row][vc_row][vc_column][vc_column_text]With Christmas comes thoughts of children and toys. In days gone by, before the advent of electronic and computer games and toys, life was much simpler. With the Depression of the 1930s and the deprivation following the war years of the 1940s families often "made do" with hand made toys or "hand me down second-hand toys"
Wood was quite plentiful whereas metals and plastics were very much in short supply. Wood, therefore, was often whittled or shaped to form such things as wooden spinning tops, skipping rope handles, or to build billy carts or rocking horses. Wooden dolls' houses, toy farms, castles or forts were created. Other plentiful materials were used to make rag dolls, golliwogs, nurse's or cowboy outfits. My father once made me a toy farm with wooden buildings and a pond made from an old mirror. He once also bought me a second-hand Hornby Clockwork Railway for Christmas. Living in a cold climate country, my father also once also made me a sled. Taking it up a nearby hill in the snow I sat on it to slide down the hill only to find that it kept turning to the right. I guess one side must have been a little shorter than the other side. I just loved these toys at the time and spent many hours playing with them.
Many parents would spend time in the work shed or elsewhere with lathes or sewing machines creating wonderful simple toys for their offspring to be placed under the Christmas tree or at the bottom of the bed on Christmas Eve. These would be the memories of children past. The toys and gifts would have been created with love and affection by the parents and thankfully received by the children of yesteryear.
Children would be seen out in the street or park on Christmas day playing with their mates and with their toys and games.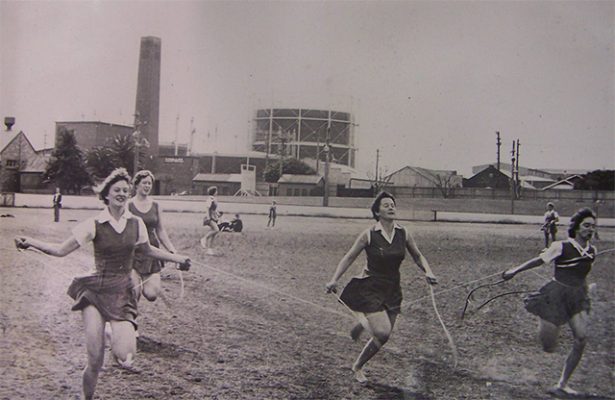 Boys would gather round for a game of street cricket and girls may be seen skipping with their ropes. Times have changed since those idyllic days. What children want now seems to be the latest computer games or robotic toys. The days of hand-made and home-built toys and games have gone into the history books.
Recently I read an account of Christmas in the 1930s. The author of the account wrote about decorating the tree with old matchboxes wrapped as parcels and tiny velvet Santa Clauses. I recall during my childhood my father creating paper chains to hang across the ceilings as decorations. Cotton wool would be used to imitate snow on the branches of the Christmas tree.
Where are the children that used to play "hop-scotch" in the playground and pavements of the past? Children seem to no longer play games with each other in the playgrounds. They congregate to view what is the latest trend depicted on social media via their mobile telephones.
Whilst I enjoy seeing the fun and excitement of my grandchildren opening and playing with their toys at Christmas time, I do miss the Christmases of the past when toys and games were often made by struggling parents.
I conclude this article with wishing readers all the best and hope that you all enjoy your Christmas[/vc_column_text][/vc_column][/vc_row]