Nicholas Giampietro and Grace Gibbeson of Kellyville Kolts won the respective men's and women's Golden Boot Awards in The Hills District, showing the immense depth of talent in this club.
The duo recently picked up their awards at a glittering annual gala dinner of Hills Football, which honoured several players, officials, and clubs for their achievements this year.
Giampietro was presented the Men's Premier League Reserve Grade Golden Boot Award with Gibbeson winning the Women's Premier League Golden Boot for topping the goal-scoring charts in a busy season.
Castle Hill United, founded in 1973, won the coveted Champion Club They are one of the largest clubs in the area and their Champion Club Award is a fitting reward for their overall success.
The annual presentation showcased the best of football players, clubs and officials in The Hills District for the year, and underlined the tremendous growth in the game since the association was founded a few years ago.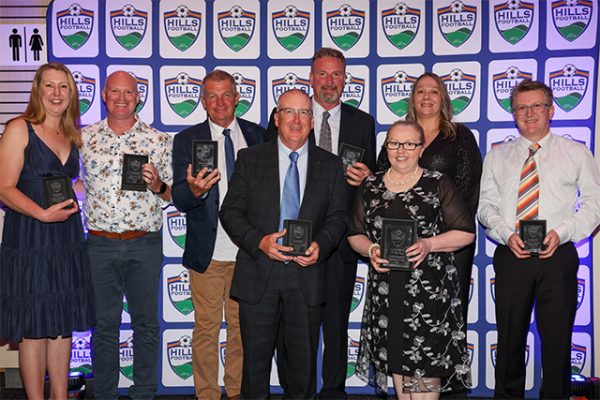 Cath Hughes of Baulkham Hills was chosen the Club Person of the Year by the Hills Football Board from many nominees.
Geoff Johnson of The Hills Grammar School was inducted into the Hall of Fame while Steve Wright of the Hills Spirit took home the Chairman's Award.
The Referee of the Year was Tristan Harris, who was selected by the HFI Referees Committee, with Alana Zic the Female Referee of the Year. Mitchell Renton was presented the Under-21 Referee of the Year award.
Hills Football General Manager Charlotte Ercil said their biggest achievement this year was the successful completion of the season and "providing our members with all rounds and finals played".
"This was questionable across all associations due to the extreme impacts that the wet weather has had on our competitions," Charlotte said.
She said the number of players for both men and women increased this year with more expected to sign up for the 2023 season as they head back into what should be a more 'normal' season post-Covid and wet weather impacts.
Asked for the reasons why women's football has taken off this year, Charlotte said: "It was due to targeted promotion and the increasing interest due to the announcements around the hosting of the Women's World Cup in 2023."
She also welcomed the newest club, Bella Vista FC, into their ranks next year, saying: "This is a huge growth area in a relatively untapped market. A great new facility with two full-size football fields (Balmoral Road Reserve) is also a key asset to the association.
"Our goals for 2023 include the growth of all competitions, particularly female football as we leverage off the women's World Cup, securing further funding to commence the initial stages of the Home of Football (Caddies Creek Stage 2) and the push for non-traditional football/playing formats."
Last year, Football NSW backed Hills Football's plan to have a 'Home of football' at Caddies Creek Sports Complex.
The full list of award winners:
• U21 Referee of the Year: Mitchell Renton
• Female Referee of the Year: Alana Zic
• Referee of the Year: Tristan Harris
• Violet Nutt Award: Jenny Crandell (Castle Hill United)
• Women's Premier League Golden Boot Award: Grace Gibbeson (Kellyville Kolts)
• Men's Premier League Reserve Grade Golden Boot Award: Nicholas Giampietro (Kellyville Kolts)
• Men's Premier League First Grade Golden Boot Award: Christian Zebec (Kellyville United)
• Community Award: Kellyville Kolts
• Club Person of the Year: Cath Hughes (Baulkham Hills)
• Chairman's Award: Steve Wright (Hills Spirit)
• Champion Club Award: Castle Hill United
• Hall of Fame: Geoff Johnson (The Hills Grammar School)