[vc_row][vc_column width="1/6″ offset="vc_col-lg-1/5 vc_col-md-1/5 vc_col-xs-1/5″][us_image image="67173″ size="thumbnail" align="left" style="circle" has_ratio="1″][/vc_column][vc_column width="1/12″ offset="vc_col-lg-4/5 vc_col-md-4/5 vc_col-xs-4/5″][vc_column_text]By
Bev Jordan
[/vc_column_text][us_post_date][/vc_column][/vc_row][vc_row][vc_column][vc_column_text]Riding for the Disabled Tall Timbers at Gables is a finalist in the 2022 Australian Disability Service Conference & Awards (ADSCA) and is one of only three finalists across Australia in the Most Outstanding Allied Health category.
It's a huge accolade to the RDA Tall Timbers Centre which introduced allied services at its North West Sydney base three years ago to meet the additional needs of clients.
The RDA's occupational therapy, speech pathology and counselling services are all carried out at the Tall Timbers Centre in Gables on the centre's 10.9ha bushland site.
Head Coach Nicole King will be heading to the Gold Coast for the awards which will be presented on Wednesday 9th November.
She told the Hills to Hawkesbury Community News: "As a Not for Profit NDIS Provider it is extremely exciting to be recognised as a finalist in these awards.
"Our Allied Health team has worked hard over the last few years to develop the Allied Health services to compliment our equine programs. Having the input from the Allied health team into our Equine programs has been invaluable for our Coaches as we strive for a holistic individualised program for each participant. "
RDA Tall Timbers has been running therapeutic equine based programs for children with disabilities for 50 years. The benefits for participants are physical, social and psychological.
So far this year, 195 Participants have accessed services across all programs _ averaging 100 per week. There are 18 horses at RDA Tall Timbers and 65 volunteers.
Nicole says for many participants, being with the horses is life changing.
She said a 12-year-old girl who had been on the program for three years had developed her confidence to such a level that she was now able to interact with her fellow students at school. "That's not an usual occurrence," she said.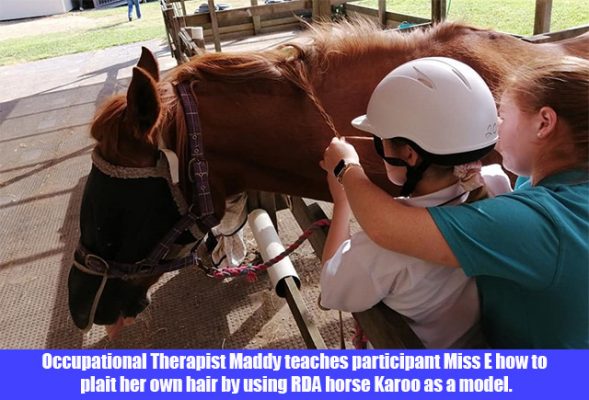 Tall Timbers was established in 1972 by Pearl Batchelor at her riding school in West Pennant Hills. The centre moved In 1976, due to impending development, to Kellyville where RDA Riding High By BEV JORDAN it was based until 1999 when it moved (due to development) to Box Hill (now called Gables).
Tall Timbers faced challenges through COVID as they tried to look after the horses and manage the Centre's beneficial programs in a COVID safe way while trying to retain volunteers. Annual fundraisers also had to be cancelled. Constant wet weather and storm damage have also had an impact.
Nicole says. "It costs $1200 a year to run the program for one rider and on top of that we have the cost of feeding each horse and maintaining the facilities.
To find out more visit rdanswtalltimbers.org.au[/vc_column_text][/vc_column][/vc_row]