Hawkesbury City Council held a ribbon-cutting ceremony on Saturday, 16th September, 2023 to officially name The Breakaway Reserve and its two cricket ovals at Freemans Reach.
The Reserve has been known locally by its informal name 'The Breakaway' and has now become formalised. The naming includes the two ovals within the Reserve; the northern one will now be called Charlie Greentree Oval, and the southern oval will be named George Greentree Oval.
Councillor and the Mayor of Hawkesbury, Sarah McMahon, celebrated alongside Freemans Reach Cricket Club members during the ceremony. The event included a complimentary refreshment and a Welcome to Country by Rhiannon Wright. George Greentree, the oval's namesake and his family were special guests on the day.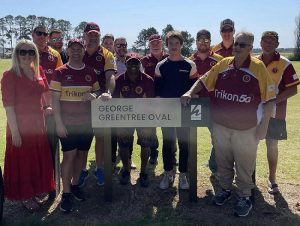 The Council named the two ovals to honour Charlie and George and acknowledge Hawkesbury's cricket heritage.
"It is a fitting tribute to name these ovals Charlie Greentree Oval and George Greentree Oval because it acknowledges the significant contribution made to the Hawkesbury, and the sport of cricket, by Charlie, George and their families," Mayor McMahon said.
"This Reserve has been informally known as The Breakaway for many years."
"I'm delighted to announce that the name The Breakaway and the ovals are now official."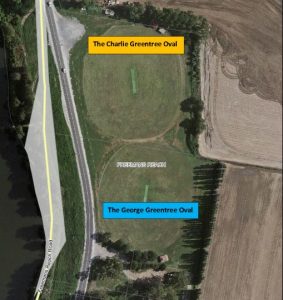 New signs have been installed at the Breakaway Reserve and ovals, located at Freemans Reach Road, Freemans Reach.
Over many decades, Charlie Greentree and his son George ran the club and coached teams as Freemans Reach Cricket Club volunteers.
Charlie was a local farmer and a third-generation Freemans Reach Cricket Club member, following his father's and grandfather's footsteps. He was a Freemans Reach Cricket Club member for nearly 70 years until his passing in May 2019.
George Greentree was the captain of his team every year from Under 13s until he retired from 2nd Grade. He is also a life member of Freemans Reach Cricket Club and Hawkesbury District Cricket Association.
"I signed up as a player at age six in 1966 for the Club's under 13s side and I ended up playing for 29 years," George said.
'I'd like to thank Hawkesbury City Council and Sarah McMahon for making this happen, it is a great honour for our family, and it has made me a happy man."
During its 8 September 2020 Ordinary Meeting, the Notion of Motion was raised to the Council about the naming process and for the reserve to be officially named Breakaway Reserve. Item 210, or Naming of Reserve and Ovals at Freemans Reach Road, Freemans Reach – (95496, 112106), was adopted in October of the same year.
In turn, the Council sought public feedback on the item in accordance with the Geographical Names Act 1966. The submissions were open until 17 December 2020.