By Josh Kerwick
The 2023 World best Vodka awards recently presented the honour of World's Best Infused/Botanical Vodka to Karu Distillery, an independent distillery located in Grose Vale that overlooks the Devils Wilderness, for their highly acclaimed Morita Chipotle Vodka.
This award certainly isn't the first accolade that Karu Distillery has won. Married couple Ally and Nick Ayres started independently distilling spirits under the Karu banner in 2018. Since then, the two have received over 70 accolades globally for their gins and Morita; the vodka alone has earned multiple awards in the last two years, including Double Gold at the San Francisco World Spirits Competition.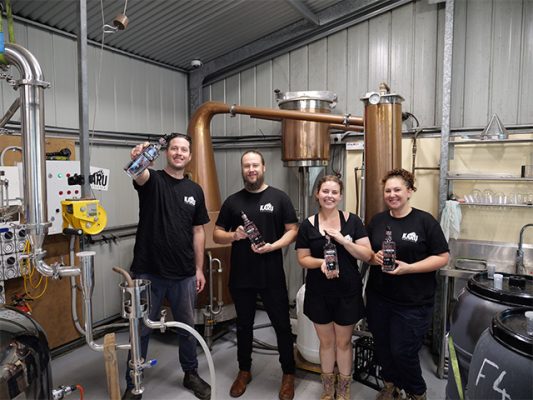 Ally, head distiller at Karu and a lifetime Hawkesbury local, says that Morita Chipotle began as a personal project for her and Nick to use in their own cocktails. However, they soon realised that Morita could fill a gap in the bartending market after monitoring forums and reading that many people were no longer after tequila in their cocktails like margaritas, but vodka.
The pair got back to work on Morita, Ally being the one to fully develop the recipe into the award-winning concoction it is today. The spirit was an instant hit with bartenders, she says; "They love it, because it can be so versatile!"
Inspired by the couple's love of Mexican food, Morita is infused with two types of chillis. It isn't a spicy spirit, though, thanks to the rigorous deseeding of the chillis before distillation. Add in an eclectic mix of ingredients including agave syrup and green capsicum and the result is a vodka that's equal parts smooth, smokey and flexible.
The Karu Distillery operates on the beautiful acreage of Ally's aunt and uncle, and was always intended to be in the Hawkesbury region from inception. "It was important for us to be in the Hawkesbury because I've been a local here for so long. When you live in the Hawkesbury, the whole Hawkesbury is your home," Ally says.
The landscape surrounding Karu Distillery plays a huge role in its operation. Many botanicals required for the spirits are grown in a garden on-site, and the UV-treated rainwater used to cut down the drinks makes a huge difference in the quality of the final product. Run-ins with wildlife are common, as are visits to the on-site lookout into the expanse of the gorgeous Devils Wilderness.
Despite their success, Karu has been directly affected by many of the challenges created by the pandemic and natural disasters in recent years. During the 2019 fires, their first ever batch of rum barrels had to be evacuated from the property while they were being aged to market standard. Morita Chipotle was released during the second wave of NSW lockdowns in 2021, making it difficult to fully communicate to spirit enthusiasts the vodka's details even while it was winning innovation awards – all this while continuing to expand their team and company.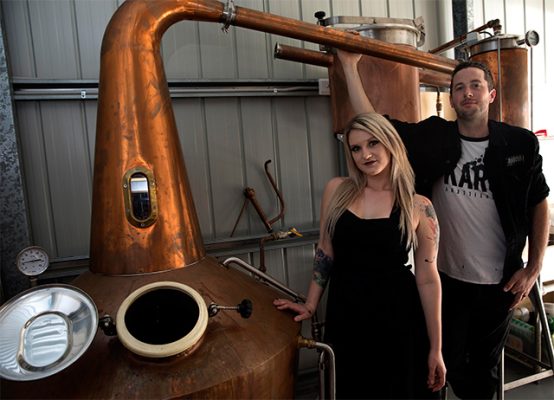 Yet, regardless of those challenges, Ally is very positive about the hard lessons they've had to learn as both a business and as individual people. All of those tribulations have taught her and Nick a lot. "I'm grateful for learning the lessons. Hopefully by the time we're 50 years old, we'll be genius problem solvers," she adds with a laugh. "We've got something very important, and we've come too far now to let that stuff take us out."
Though the journey has been an intense one, Karu Distillery have countless achievements under their belt. From the moment Ally and Nick won their first award three months after releasing their debut gin, the Karu name has been one associated with prestige and innovation.
Reflecting on the path up to the most recent World Vodka Awards title, Ally says: "Everything that's happened is really unexpected, and ridiculous and fun and wonderful and terrifying, and to think that it's all happened to the people who were sitting in this seat right now is mental." But the reality speaks for itself, both in Karu's tasty spirits and their spotless international reputation.
Karu Distillery is hosting Autumn Long Lunch on the 2nd of April, an event where you'll be able to try all their spirits in an afternoon of good food and drinks. Be on the lookout for Karu in the community, too, as they plan to hold plenty of tastings all around the area and beyond – more information can be found on their website.
If you're interested in trying the world-class Morita Chipotle Vodka at home, you can order it on Karu's website or from retailers like Dan Murphy's and Cellarbrations. Ally recommends the Camino, a cocktail with lime juice and tamarind syrup. Shake it until it's got a bit of foam on the top, add ice and cracked pepper to finish it off and enjoy. "You can definitely overdo those ones," Ally warns, "So drink responsibly!"