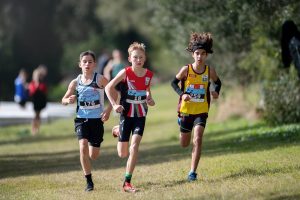 Children from the Hills District showcased their athletic skills during the Little Athletics State Cross Country & Walks Championships on 2 July 2023 at the Scheyville National Park.
As per the Hills District Little Athletics, the Hills "[were] represented by 26 individual competitors and a total of 5 teams (3 competitors per team), in the Cross Country, and 2 competitors in the Walks races."
Little Athletics is an Australian sport usually played by and suited for youth aged 5 to 16. The sport is rooted in track and field and hosts events with activities such as jumping, running, throwing, and walking. See related story: Little Athletics NSW to host Sport Competitions at Scheyville Park
They competed in various distances ranging from 1000 metres to 3k Runs. Road Walks distances ranged from 1200 metres to 4k matches.
The medalists and their result times are as follows:
Gold Medalists:
Beau Adams: 12 Boys (6:15)
Cameron Bloem: 14 Boys (9:38)
Silver Medalists:
Jackson Newlove: 8 Boys (4:11)
Harrison Ferns: 14 Boys (9:51)
Bronze Medallists:
Madison Melloy: 7 Girls (6:01)
Cameron Batey: 11 Boys (6:26)
Charlotte Scott-Rogers: 13 Girls (11:53)
Teams Gold Medal:
8 Boys: Jackson Newlove, Zac Mathuswamy & Ashton Delmage (4:11, 4:30, 4:34, respectively)
11 Girls: Hayley Foley, Holly Chesterman & Olivia Ferns (7:47, 8:07, 8:37, respectively)
11Boys: Cameron Batey, Carter Bergan & Evan Dismore (6:26, 6:42, 7:05, respectively)
13 Girls: Charlotte Scott-Rogers, Ruby Kernaghan & Kailee Azzopardi (11:53, 12:24, 14:14 respectively)
Teams Silver Medal:
12 Boys: Beau Adams, Noah Falzon & Nishad Pandit (6:15, 6:57, 7:41, respectively)
Image credit to Hills District Little Athletics.