---
The Upper Colo Bridge is now open to the Hawkesbury and Colo community after a ribbon-cutting celebration on 2 June 2023.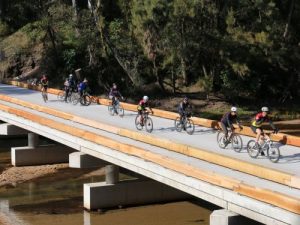 The bridge, valued at approximately $3.4 million, is now made of concrete and offers a reliable path across the Colo River. In 2021, floods destroyed the last timber bridge constructed in 1936. The historic structure was built by Solomon and Duffy and was opened to the public by Mr Spooner, the Minister of Works and Local Government at the time.
Sarah MacMahon, Mayor of Hawkesbury City, regards the former bridge as a vital infrastructure for the Upper Colo area.
 "This project is one of $35 million of flood road repairs have been carried out over the past 12 months, as Council works through a $240 million repair program that involves nearly a quarter of our roads.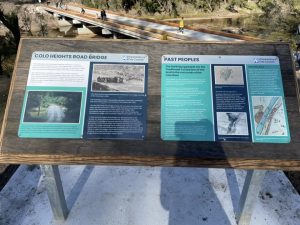 "There is still a lot of work to be done, but we are committed to restoring, and where possible improving, our [flood-damaged] roads as quickly as possible.
"I thank the residents for their patience and input during the rebuild, and it was wonderful to be able to celebrate the opening with them on Sunday," Mayor Sarah MacMahon said.
Along with the Mayor, state members Robyn Preston MP and Susan Templeman MP joined the event. Multiple Councilors, such as Jill Reardon, Les Sheather, Mary Lyons-Buckett, and Nathan Zamprogno, attended the Upper Colo Bridge's ribbon-cutting.
Colo Locals who attended the initial 1936 bridge opening also participated in the event, such as the 90-year-old Mervyn Ward and his twin brother, bringing stories of the past to come alive. The Upper Colo Rural Fire Brigade was also present.
In the Upper Colo Bridge Replacement – Heritage Interpretation Plan, prepared by Biosis Pty Ltd and commissioned by the Hawkesbury City Council, there were efforts to review and list the old Colo Bridge as historical. However, according to the NSW Heritage standards, it did not meet the local and state level threshold.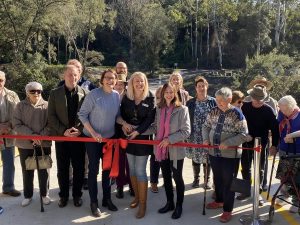 Meanwhile, the Upper Colo bridge's location has had some significance as it was used in the region's development and the "transport of goods and people throughout the region and further afield."
As a result, parts of the heritage timber were incorporated into the Upper Colo bridge's surrounding designs, offering a symbolic nudge to its 8th-decade legacy. Some became benches, and others were used for interactive and interpretative signage. These include information about indigenous history and information on the Darkinjung and Dharug people, the region's first inhabitants.
Image credit to Hawkesbury City Council, Sarah MacMahon – Mayor of Hawkesbury, and Robyn Preston MP.