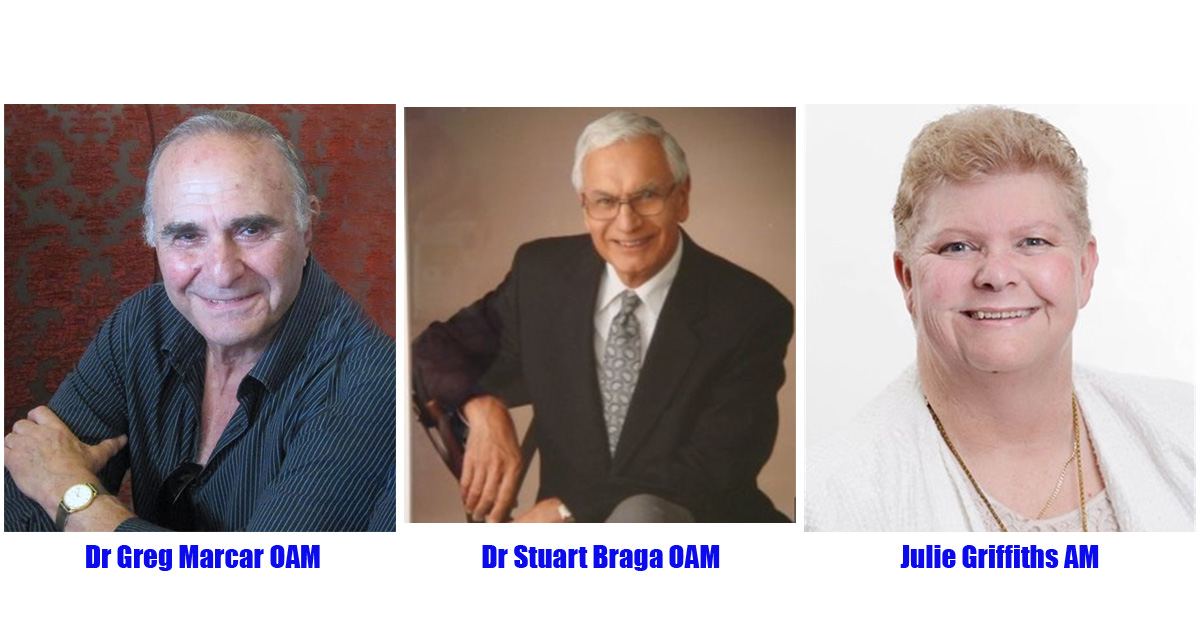 An incredible collection of local volunteers have been honoured in the King's first official birthday honours list, including residents with backgrounds in health, education and sport.
Quakers Hill resident and Blacktown City COUNCILLOR JULIE GRIFFITHS AM was made a Member of the Order of Australia for significant service to local government, to women's football, and to industrial relations.
She has been Senior Women's Coach at Glenwood Redbacks Soccer Club, since 2012 and is a committee member, Coach, and Volunteer, Quakers Hill Soccer Club. She is former Chairperson and a Board Member of Women in Sport.
Councillor Griffiths was first elected to Blacktown City Council in 2008 and has twice served as Deputy Mayor. For the past 30 years, she has been an active member of the Australian Local Government Women's Association (ALGWA) NSW, serving as President.
DR GREG MARCAR OAM from North Kellyville was awarded a Medal of the Order of Australia for service to medicine through a range of roles.
He graduated from medical school in Bangalore and worked in India before moving to Australia. "I was interested in Public Health and preventative medicine," he said.
He held several roles during the next 25 years including Acting Deputy Medical Officer of Health and Relieving Medical Controller, Granville Train Disaster in 1977.
"It was an awful sight, even to this day it still haunts me," he says.
Dr Marcar was Foundation President, Overseas Medical Graduates Association/ Australian Indian Medical Graduates Association.
"It was set up to deal with equity issues and registration issues," he said.
His contribution to the medical field through a range of roles on boards and committees has made a considerable impact at both State and Federal levels. He also served on an advisory committee to the Ethnic Affairs Commission of NSW.
When he retired from the role of Medical Superintendent at Lidcombe Hospital it became his mission as a volunteer to preserve the 100 year plus history of the hospital site after it was sold to developers.
He founded the Lidcombe Heritage Group in 1995 and was Principal author of the book: A Historical Tour of Lidcombe Hospital. "We wanted to make people aware and we did. Most of the significant buildings have been tastefully preserved. There is a very nice heritage trail and our book has been referenced," he said.
Dr Marcar said when he first received the email telling him about the OAM while holidaying with his wife Dianne he thought it was a scam.
The 84-year-old spent the day of the official announcement walking his daughter's dog and telling his three children and grandchildren the good news.
DR STUART BRAGA OAM from Castle Hill was awarded a Medal of the Order of Australia for service to education administration, and to community history.
A history buff, educator and author of multiple books, Dr Braga is a Life Member of the Australian College of Educators and has held several executive positions with the Teachers' Guild of NSW. He has been a member of the Anglican Historical Society since 1966 and is a life member of the Royal Australian Historical Society and Beecroft-Cheltenham History Group.
A former Deputy Headmaster of Trinity Grammar School (1985 to 1998) and House Master and Senior History Master at Barker College (1964-1984) Dr Braga was also Inaugural Chairman of the Association of Deputy Heads.
His extensive roles include consultant with the National Library of Australia, NSW Representative, Australian National Museum of Education and member of numerous history associations.
His books include: Five Hundred Years of Macau; John Paton, VC, Hero of Lucknow; Kokoda Commander: The Life of Major-General 'Tubby' Allen and Anzac Doctor: The Life of Sir Neville Howse, Australia's First VC.
MICHAEL MORRIS OAM from Norwest was recognised for service to the Jewish community of Parramatta. The current president of the Parramatta and District Synagogue has held various executive positions including Treasurer and Vice-President, since 1981.
BORTOLO (TAS) BAITIERI OAM from Castle Hill was awarded his OAM for service to rugby league through administrative roles including International Development Manager, Asia Pacific Confederation, Coaching Development Manager, NSW Rugby League and player with both Penrith Panthers Canterbury-Bankstown Bulldogs in the 70s and 80s.
* Anyone can nominate any Australian for an award in the Order of Australia. If you know someone worthy, nominate them now at www. gg.gov.au.