Kellyville's all-conquering Michelle Lee arrived safely in Port Douglas and stepped off her boat The Australian Maid at 9.49 am AEST on Wednesday, 5th April to the cheers of family, friends and a crowd of onlookers.
Her GP, Dr Adrian Cohen, was the first to greet Michelle after her 237-day journey rowing 14,000km to become the first woman to row solo and unassisted across the Pacific Ocean, surviving five hurricanes and four cyclones.
Her arrival via the Great Barrier Reef was put back a few days due to strong outgoing tides, according to her team, though her spirits remain high as "I'm now dreaming of stepping on land". "At the moment it's some really conscious focused hours of the oars with the finish line now in sight," she posted a few weeks ago.
The courageous 50-year-old will become the first woman to row solo, unassisted, and with no stops across the Pacific Ocean, achieving this incredible feat around 100 days sooner than expected. Michelle said in posts she is really looking forward to a meal of pancakes, celery, capsicum, and cucumber – plus of course a shower and sleeping on a bed with clean sheets.
Her perilous solo rowing odyssey across 14,000km began back on August 8 in Mexico.
"My patience has been tried and tested, I'm ready to land. I'm now just dreaming of stepping on land," Michelle said. "That stack of pancakes is going to be so amazing, as is a bunch of celery, some chopped capsicum, and cucumber.
"A bed with fresh sheets – so divine – and a shower, and to get my hair done as well! I expect it will take me a week to become a socially acceptable human again." This is the second huge solo rowing journey the massage therapist has completed, with her 5000km Atlantic Ocean crossing over 68 days seeing her being crowned Australian Geographic Adventurer of the Year in 2019.
Michelle's 14,000km journey in the 7.7x2m carbon fibre boat, The Australian Maid, took her across the Equator and into the path of hurricanes and cyclones, including Cyclone Gabrielle which saw her locked down for more than a week.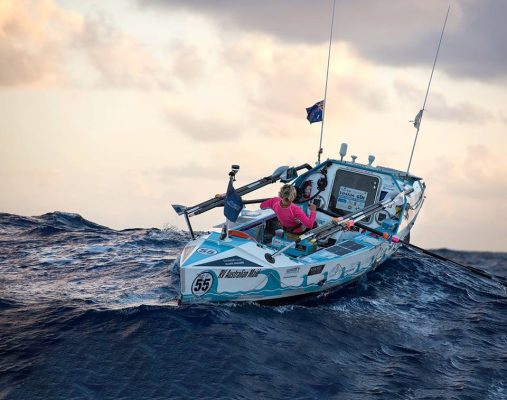 A month ago, Michelle enjoyed her last full moon at sea with some Easter eggs and sparkling wine. Her journey has included stunning marine life encounters including orcas, giant blue whales, and migratory birds.
The Quays Marina owner Richard White, one of her supporters said Michelle's tenacity in planning her journey won the support of his business: "I watched her never give up and that's the tenacity needed to complete a record-breaking row like this."
The Hills local certainly inspires all of us, as she stays true to her motto: "Don't die wondering. Start thinking you can and you will."