By Bev Jordan
The TINY HOME EXPO is back at the Hawkesbury Showgrounds in May (12th May to 14th May), with around 40 exhibitors.
Last year's extensive flooding limited the number of exhibitors to 25 homes at the Hawkesbury Showground but all homes were sold by 11am on the first day for people needing emergency accommodation. Many were towed away after the three-day event.
Tiny Homes Expo organiser Phae Barrett said: "It was touch and go if we held the exhibition as there was so much flooding, it was dreadful. We had to limit the size of the houses on show but the community really welcomed us."
She says ticketing at this year's event and staggered entry times should mean there aren't long queues to see inside the houses which range in size from one-room wonders to three bedroom homes, and price with designs from gypsy caravans and domes to split level homes with luxury finishes, bathrooms and full decks.
The expo aims to help people get to know the variety of alternative dwellings available.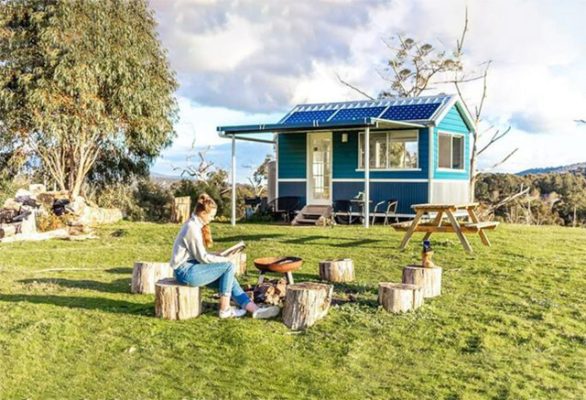 "Tiny Homes have gone from being an alternative lifestyle choice for people looking for a sustainable way of living with less stuff, to single women over 55 at risk of becoming homeless and now people aged 34 to 39 with families," Phae told the Hills to Hawkesbury Community News.
She said the interest in Tiny Homes has been pushed by COVID ("People started thinking how they lived their lives") the floods ("displaced people seeking accommodation") and the current rental shortage and interest rate rises.
Tiny Homes are popular because they offer an affordable and secure housing solution that can be moved to a different location if needed, she says.
"A growing number of people like living Off the Grid in a Tiny Home which has toilet and solar systems that can make an entire house easy to Park, Plug in and Go without needing expensive utility connections."
She said in the past 5 years the number of businesses involved in Tiny Homes had grown from 30 to over 500.
"In the past two years interest in Tiny Homes has just exploded. At our last expo a psychologist spoke about the mental well-being of people who owned their own Tiny Home, " she said.
The Expo provides a chance for people to see the homes and there are talks during the day in the speaker hall covering aspects from grey water, solar and finding land, to finance, councils and basic design ideas.
Displays include single level and double story tiny houses on wheels to live in, shipping container homes, domes, huts, frames and trailers for DIY, luxury airBNB houses and cabins, modulars that can be used for granny flats, backyard retreats and 'add-on' rooms to your house.
The Expo is being held at the Hawkesbury Showgrounds, Friday 12 to Sunday 14 May, but due to its popularity it is a ticketed event. Tickets range in price from $20 to $35. Visit the website for entry details. www.tinyhomesexpo.com.au