North Kellyville is being transformed into a haven for sports lovers and families with three facilities ( Sports Fields) under construction including Samantha Riley Reserve, Withers Road Reserve, and Stringer Road Reserve.
New playgrounds are also being built at the Deepwater Circuit Reserve and Kumbatine Crescent Reserve, in North Kellyville.
The Hills Shire Council is keen to provide more sporting opportunities to the Hills residents with the new sporting complexes also coming up at Bridle Parkway Reserve, Box Hill, and the George Thornton Reserve at West Pennant Hills.
"It is a key priority of council to provide new and upgraded facilities for our growing region, catering for our new residents, athletes, teams and sports," Mayor Dr Peter Gangemi said. "Our Shire is home to more than 300 parks, reserves and playgrounds, as well as a world-class fitness and aquatic centre.
"As mayor, I am so proud that council is delivering these fantastic sporting complexes that will allow people of a range of ages and abilities to train, socialise and play the sport that they love. It's also in these local grounds where sporting legends are born, and future record breakers are made.
There will be two cricket ovals and practice nets at the Brindle Parkway Reserve in Box Hill. This includes an amenities building with accessible toilets, change rooms, storage, and a kiosk. The reserve will feature a playground, a picnic shelter, and a car park.
Over at the Samantha Riley Reserve, there will be four multi-purpose rectangular natural turf sports fields that can also reconfigured into two ovals and two cricket wickets. There will be two practice cricket nets, a basketball half court, a 200-space car park, an amenities building, a referees room, storage facilities, and a kiosk.
The Stringer Road Reserve will boast four multi-purpose rectangular natural turf sports fields that can also be reconfigured into two ovals and one cricket wicket, cricket nets, and two multi-purpose basketball courts. Other facilities include a playground, car park, amenities building, and pathway around the fields.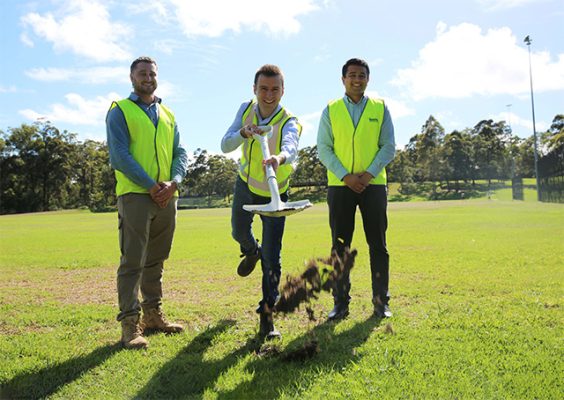 At the Withers Road Reserve, there will be a half basketball court, a turf kick-about area, and a playground to cater to a wide range of age groups and abilities.
The Kenthurst Park expansion has been completed, increasing the size of the southern sports ground area to accommodate two full-sized playing fields. There is an improved cricket outfield and the retainment of the turf cricket square.
A new synthetic cricket pitch and practice nets will make the George Thornton Reserve a much sought-after field. When completed, this reserve will have a larger playing field area on the western side, which will feature a full-sized sports ground and lighting