Join Journalist Jackie Dent in her stories about her medical cadaver research and thought-provoking discussion about ethics in dissection on 8 September 2023 at the Hawkesbury Central Library.
Published in early 2023, The Great Dead Body Teachers puts into words Dent's lifelong interest in death and dead bodies. The book revolves around the story of her grandparents and their bodies donated to science and intertwines her personal questions on ethics, its practicality, and her research on medical cadavers.
General admission costs $5 and can be booked online via Eventbrite via this link: Author Talk – Jackie Dent – The Great Dead Body Teachers.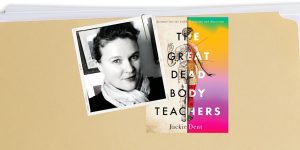 The seminar will begin at 6:00 PM and end at 7:30 PM. The Hawkesbury Central Library is located at 300 George Street, Windsor, NSW 2753.
Jackie Dent is a journalist who has written for major media outlets such as The Guardian, The New York Times, Reuters, and the Sydney Morning Herald. 
The image belongs to the Hawkesbury Library Service.