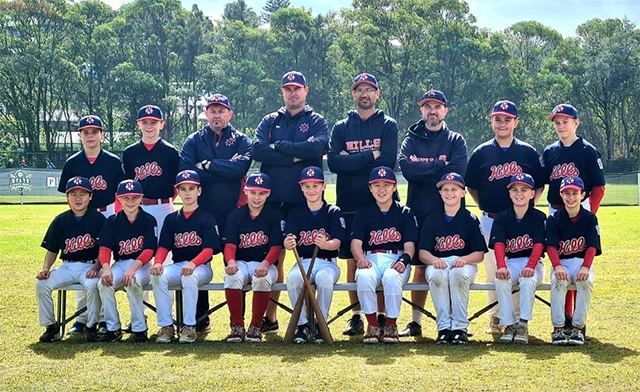 Adrian Jankuloski and Jet Creamer are two of the most promising Hills baseballers who are looking to make their mark at the 2023 Australian Little League Championship in June.
The talented Richmond duo will represent The Hills Little League team who advanced to the National Championships after being runners-up at the State Championships.
The stakes are high in the nationals with the winners qualifying for Little League World Series in Williamsport, USA, where there also be attention from talent scouts.
Jet Creamer, 11, attends Richmond Public School and has been playing baseball for most of his life, with Dad Brett spending hours training with him.
Jet, a pitcher, earned the admiration of his team for playing during the state championships with a broken thumb. He fractured the finger while taking a diving catch but braved the pain to play on.
Jet is a committed baseballer, travelling two to three times a week to the Hills to train, dropping soccer and swimming to concentrate on Little League.
Jet said his short-term goal is winning the Nationals while his long-term aim is going to college in the USA to play baseball.
Adrian, 12, whose elder brother Adam, 14, is also competing at the state level with the Hills team, had a very successful tournament at the 2023 NSW Little League Championships.
In the grand final against Cronulla, Adrian threw 68 pitches, 54 strikes over 6.2 innings, only two hits, no earned runs, and five strikes outs.
Adrian is a pitcher and plays first base. In five years, he has shown immense promise and like Adam, has inherited the baseball genes from Dad Vasko Jankuloski, who played for Wollongong Cardinals.
Mum Diane Jankuloski said her sons, who attend Bede Polding College, Windsor, moved clubs to "achieve their baseball dreams".
"They both started baseball at Hawkesbury Hawks, and are great pitchers who are truly passionate about the game," Danielle said. "They have played club baseball together and won premierships together.
"Both Adam and Adrian are very committed to the Hills and truly love playing baseball. They both would love to go to America and play there one day."
Diane thanked the Hills coaches, especially John Yard, for their support, passing on their baseball knowledge, and giving Adam and Adrian the opportunities to play at the highest levels.
The Hills U14 squad for the Nationals: Jet Creamer, Jack Drummond, Harrison Goodwin, Tom Hayhow, Jaden Jang, Justin Jang, Adrian Jankuloski, Zac Martyn, Isaac Meighan, Hayden Salmon, Jacob Sawyer, Tamati Stealey, Beau Stockdale. Head coach: Brad Abel; coaches: Stuart Goodwin and Scott Wright; executive officer/assistant coach: Jarrad Salmon.