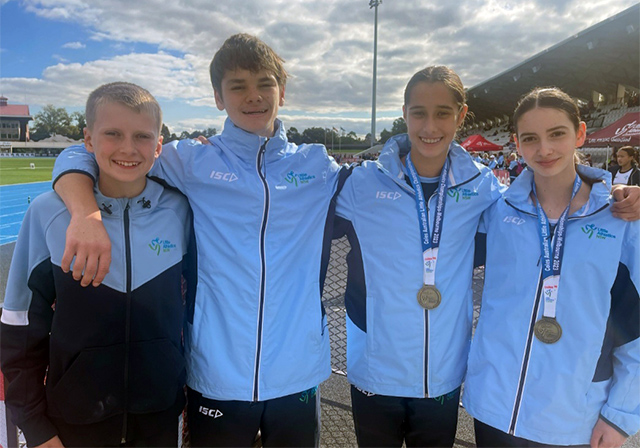 Angelina Burford and Olivia Scott-Rogers were the golden girls as The Hills District Little Athletics shone brightly at the 2023 Coles Australian Little Athletics Championships in Melbourne.
Angelina was unbeatable in the under-14 girls' 90m hurdles and 200m hurdles, winning a rare double at the highest Little Athletics arena in Australia.
Olivia cemented her form at the 2023 NSW Little Athletics Championships by capturing gold in the girls' under-13 high jump. Olivia has been in excellent form this season, winning the same event at the state titles at Homebush in March.
Jack Proudford, the reigning NSW LA under-14 100m champion, won silver at the Australian championships, to make it one of the most successful nationals for the Hills team. He ran fourth in the 200m.
Harrison Ferns, the fourth Hills team member, finished sixth in the under-14 boys 800m, an experience which should help him in the next season.
Hills District Little Athletics president Nathan Scott-Rogers said this is a great end to their season. "Our athletes represented our club and Team NSW with distinction, between them competing in six events, and achieving three gold medals, one silver, and two top 10 placings," Nathan said.
"It's an immensely proud moment for Hills District Little A's to see four from our club competing on the highest stage, and to achieve what they have is simply outstanding. It's a wonderful way to end the Little Athletics season and I've no doubt their efforts will act to inspire others competing in their school carnivals and our new season come September.
"In recent times, we've seen Sally Shokry, Josh Atkinson and Nick Hough move on from their Hills District Little A's journey and compete on the world stage.
"We hope there's more that go on to achieve their dreams and we'll be behind them every step of the way."
The Hills District LA had a bumper membership in their 51st season with more than 900 athletes.
Tokyo Olympian Nick Hough, 29, is one of the star alumni from the Hills, winning the 110m gold at the inaugural Youth Olympic Games in Singapore in 2010, and the 110m silver at the 2012 IAAF World Junior Championships. He won the 110m bronze in 2018 Commonwealth Games. He also competed at the 2014 Commonwealth Games.
He represented Australia at the 2020 Tokyo Olympics in addition to the 2019 and 2022 World Athletics Championships.
Discus thrower Sally Shokry, 21, represented Australia at the 2018 Youth Olympics, while Josh Atkinson, 19, who now runs for Thailand, won gold at the South East Asian Games last year.