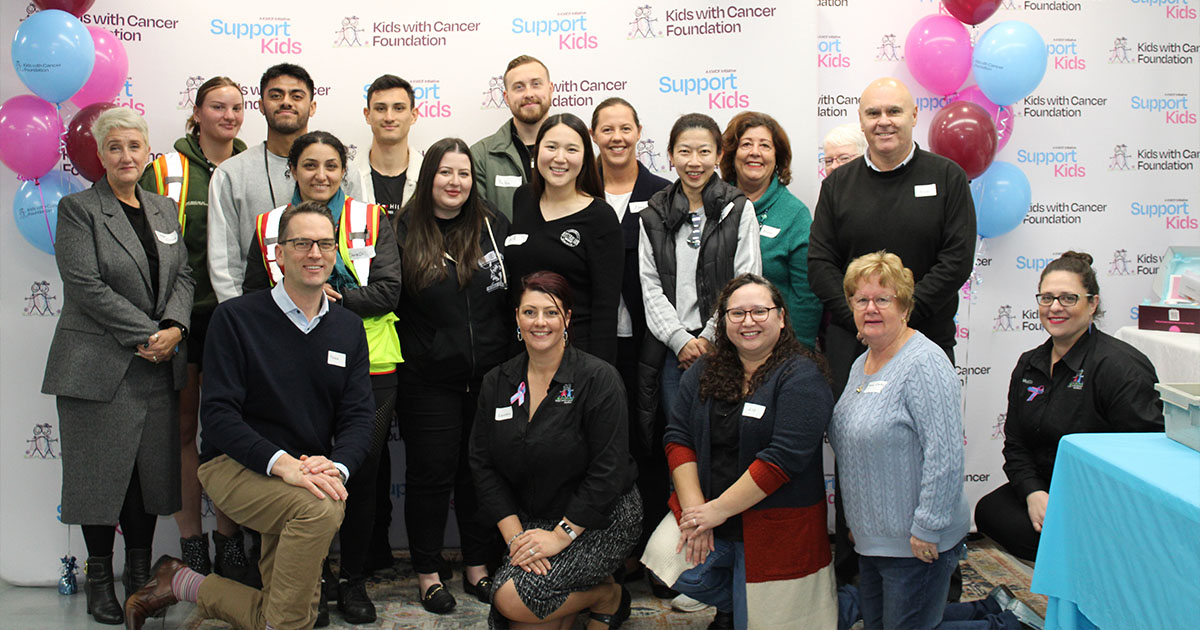 Each year, hundreds of volunteers visit Kids with Cancer Foundation's offices for volunteering days, helping to pack thousands of Care Packs – which are filled with healthy snacks, activities, small games and toys, and hand-written cards of support – which are sent to children's hospitals right across Australia to help take kids' minds off cancer treatment.
From January 2022 to April 2023, Kids with Cancer Foundation have had over 50 groups of volunteers help to pack over 7000 Care Packs. The volunteers include Hills community members from all walks of life, school-aged children, business team-building groups, seniors, special interest groups and more.
Many local businesses get involved including tech companies, a hearing-aid company, a beauty and wellness company, pubs and hotels from the public communities network and bank, an ongoing supporter of Kids with Cancer, donating 40 Care Packs to Randwick Children's and Westmead Children's every month.
Regular Seniors volunteers include Probus groups, a group of avid crafters, whose members make knitted, quilted, and crocheted blankets, dolls and other items for the children being treated at Westmead Children's Hospital.
Even the youngest Hills community members are getting involved, with children from a sports program and school-holiday Care Packing programs.
Kids with Cancer Foundation CEO, Todd Prees, said: "Our volunteers are our lifeblood. It is only through the help of our volunteers that we are able to send hundreds of Care Packs to kids with cancer all around Australia every week, and the help of volunteers in holding fundraising events is absolutely essential to supporting our programs, which help make today easier for kids with cancer and their families. We are thrilled to have more businesses coming on board to participate in our team-building volunteering days, as well as through other programs such as regular workplace giving – and we hope to continue to grow our business partnerships into the future."
To mark National Volunteer Week (15 to 21 May), Kids with Cancer Foundation held a morning tea for its volunteers on Thursday 18 May. The team of volunteers even chose to pack Care Packs to fulfil a delivery to Westmead Children's Hospital while enjoying coffee, tea and baked goods.
To learn more about Kids with Cancer Foundation, or to get involved, visit www.kidswithcancer.org.au
Kids with Cancer Foundation was established in 1998. For 25 years it has been making today easier for kids with cancer and their families, providing direct financial assistance to families in the form of payments for mortgage, rent, transportation, utilities and other bills or by supplying much needed grocery vouchers, whitegoods, wigs and sometimes funeral expenses. Kids with Cancer Foundation funds clinical hospital staff, including paying the salaries for oncology fellowships, clinical nurse specialists and social workers, as well as contributing to the funding for research and hospital infrastructure.