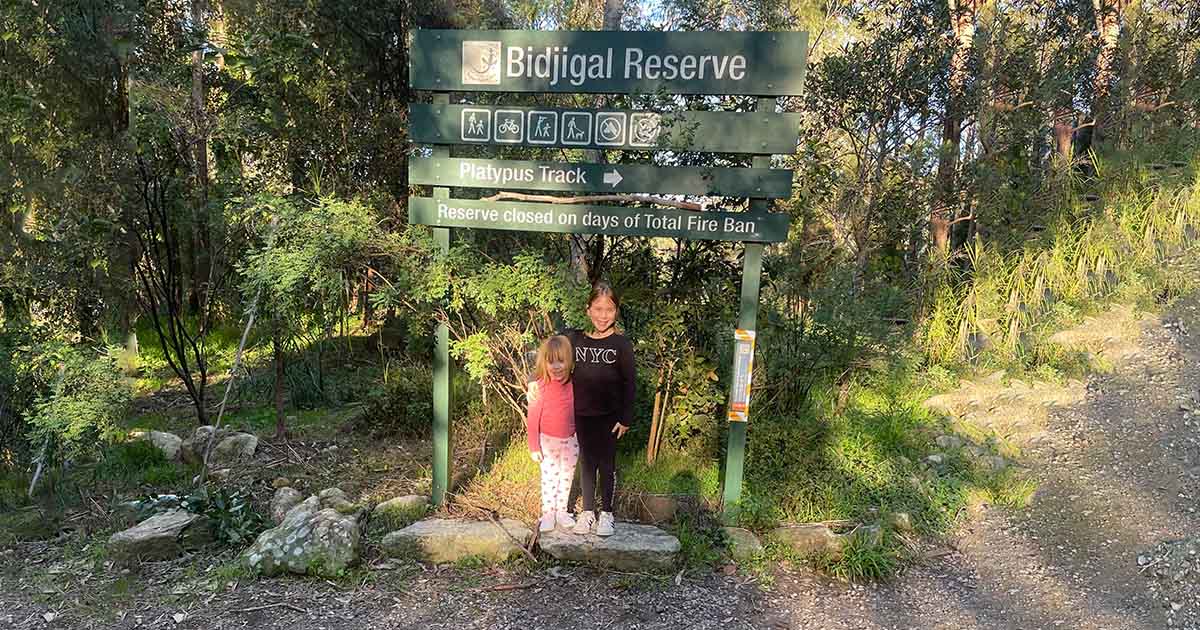 Bidjigal Reserve, named in commemoration of the Bidjigal people (part of the Darug Nation) is a beautiful piece of paradise in the bustling Hills and Parramatta areas. The reserve itself is 186 hectares in size and lies in the suburbs of Castle Hill, North Rocks, Northmead, Baulkham Hills, West Pennant Hills and Carlingford.
What is special about the reserve is the opportunity to appreciate the history of the area, to reconnect with nature and to enjoy some time away from the business of modern living. Bidjigal Reserve is home to a diverse array of native and natural fauna as well as Aboriginal artefacts including caves and rock shelters. The reserve also contains a number of walking tracks including shorter and easier trails to longer and more difficult tracks.
The Platypus Track, the easiest track available, is brilliant for families with young children, novice bushwalkers or people just looking for an easy peaceful walk. This was the first time I had taken my daughters bushwalking and despite their initial protests that it would be boring, it ended with requests to return to the Platypus Track again soon.
The Platypus Track is accessed by walking along fire trail on the left at end of Excelsior Avenue, Castle Hill and is well sign posted. The track itself starts by walking along a concrete path which soon turns into a well graded gravel path. Here we enjoyed the avenue of Turpentine trees and the incredible views from the ridge line down into the valley below. It was at this point one of my daughters asked for complete silence so we could appreciate nature and listen to the birds.
The descent down into the valley and to Excelsior Creek consisted of a steep track of rough sandstone steps which even my 3 year old managed. The creek itself is picturesque with the sandstone rocks, Water Gums and ferns growing along the banks. Our favourite part of the walk was the creek crossings including stepping stones over Excelsior Creek, a rustic bridge to again cross Excelsior Creek and concrete stepping stones over the Coachwood Creek. Interestingly, enough the Coachwood Creek is located near a weir called Loch Bruce which was built and used by residents in the 1930's as a swimming spot, again illustrating the important role Bidjigal Reserve has played over many generations.
Back up out of the valley was steep in parts but once complete we enjoyed a well earned rest in the picnic area at the start of the track which includes a grassy area to sit, tables and chairs as well as a wood BBQ.
The Platypus Track is 2.1km in total and took us approximately 1.5hours but there are places to rest along the way. Public toilets and a playground can be found at the nearby Eric Mobbs Reserve.
If you haven't explored Bidjigal Reserve, then I encourage you to do so. You won't be disappointed.