All
Police Story
Hills Police Area Command seeks help finding man with arrest warrant
Hills Police seeks residents to help locate a wanted man named Aaron Johansen.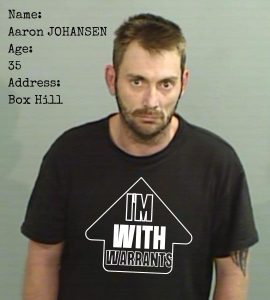 ---
The Hills Police Area Command is looking for to public help to locate a 35-year-old man named Aaron Johansen around the Box Hill area. 
"Police are appealing for public assistance to locate a man wanted on arrest warrants, as part of Operation Persistence Metro," as per a Facebook announcement by the Hills Police on 27 June 2023.
Johansen is believed to be in areas surrounding and within Box Hill. Hills Police Area Command described him as having a "Caucasian appearance, medium build, and 172cm tall.
This mission is part of Operation Persistence Metro, an operation across the Sydney Metropolitan to incarcerate wanted people due to their outstanding arrest warrants.
The Police encourage NSW residents to report crimes related to Crime Stoppers NSW on 1800 333 000 or https://nsw.crimestoppers.com.au.
See related story:
Hawkesbury Police seeks to help locate a 33-year-old man
Image credit to Hills Police Area Command.