[vc_row][vc_column width="1/6″ offset="vc_col-lg-1/5 vc_col-md-1/5 vc_col-xs-1/5″][us_image image="67173″ size="thumbnail" align="left" style="circle" has_ratio="1″][/vc_column][vc_column width="1/12″ offset="vc_col-lg-4/5 vc_col-md-4/5 vc_col-xs-4/5″][vc_column_text]By
Bev Jordan
[/vc_column_text][us_post_date][/vc_column][/vc_row][vc_row el_id="anchor one"][vc_column][vc_column_text]
Hills Citizen Award Winners
The orange glow of State Emergency Service uniforms brightened up the stage at the Hills Citizen of the Year's Australia Day Awards last week with members of The Hills SES nominated in three categories.
Hills SES won The Hills Community Group of the Year Award with the volunteer-based emergency response organisation, contributing more than 17,000 hours of work during 2022.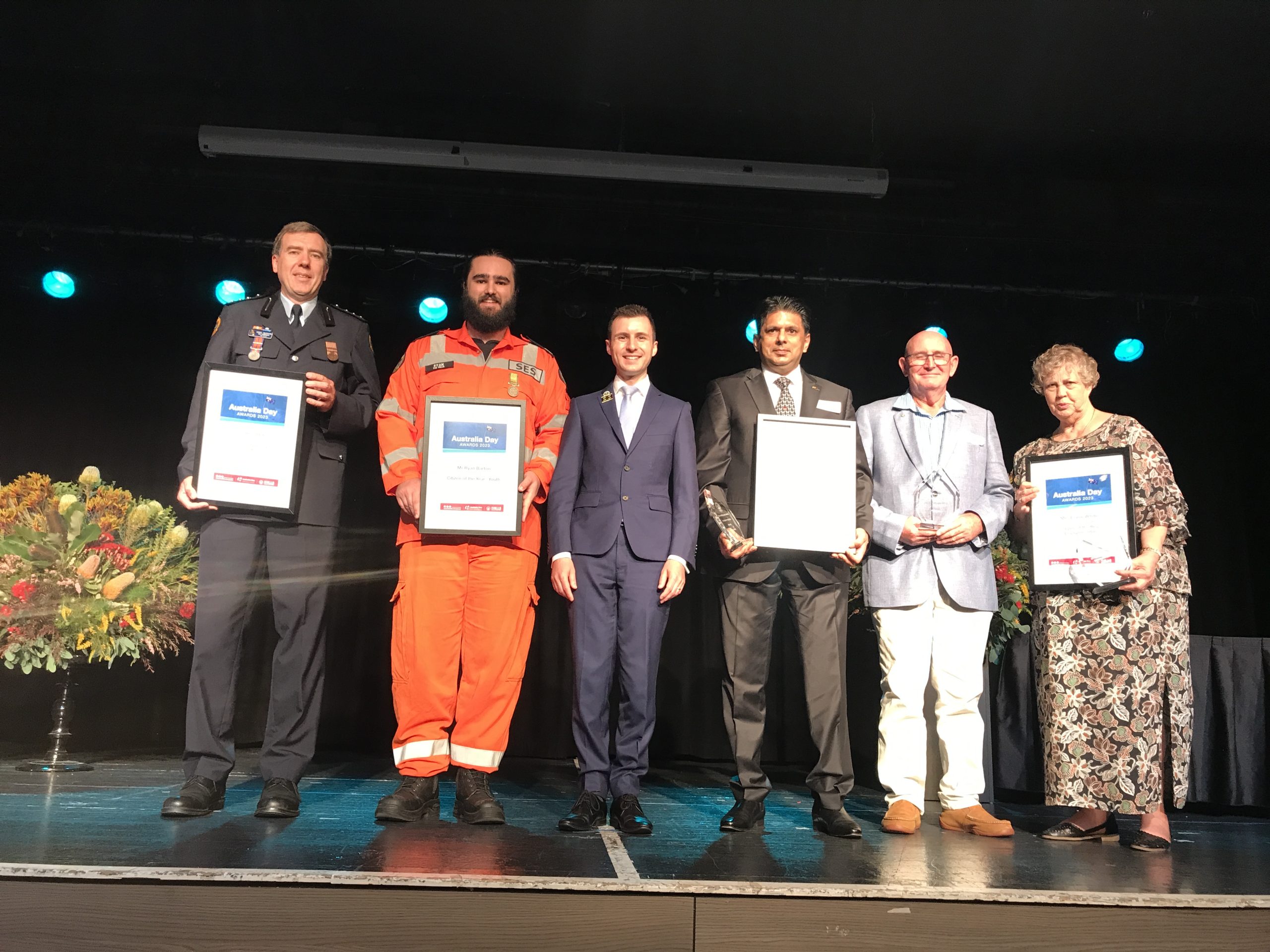 Hills volunteer crews have worked through three significant flooding disasters in The Hills and along the Hawkesbury River. In addition to this, crews also responded 1483 requests for assistance, which ranged from missing persons to emergency repairs and support.
SES volunteer Ryan Barton was named Hills Young Citizen of the Year.
Ryan is one of the youngest volunteers in The Hills SES to hold the rank of Leading Senior Operator. He has put in nearly 1400 volunteering hours responding to community calls since joining the organisation less than four years ago. Ryan is also the Hills SES Duty Officer.
Husband and wife team John and Nicky Hill, who were finalists in the Senior of the Year category, have each volunteered with SES for 15 years.
The Senior Citizen of the Year Award went to Paul Rapp, Rotary Club of Kenthurst Services Director. In his 16 years of service with the Rotary Club, Paul has helped to plan and drive a number of local community events, including ANZAC Day ceremonies, Australia Day Flag Raising events and the much-loved Kenthurst Fair.
He has also contributed his time to helping local schools, the Men's Shed and sporting groups, as well as taking over the responsibility of maintaining John Benyon Rotary Park, at Kenthurst.
The Environmental Citizen of the Year award was presented to Elaine White for her volunteering efforts at the Annangrove Community Environment Centre and with the Cattai Hills Environment Network (CHEN) as part of their platypus DNA project in the Cattai Creek Catchment.
[/vc_column_text][/vc_column][/vc_row][vc_row el_id="anchor Two"][vc_column][vc_column_text]
Hills Citizen of the Year Award
The Hills Citizen of the Year Award went to Rajiv Chaudhri for his philanthropy work. Rajiv is the President of the Community Foundation of North Western Sydney, an independent, not for profit organisation that assists people in crisis or who are socially isolated, and is a Director of the Lisa Harnum Foundation which supports victims of domestic violence.
Mayoral Recognition Awards were presented to Connie Keith and Pratibha Bhanushali for their community work in the Hills.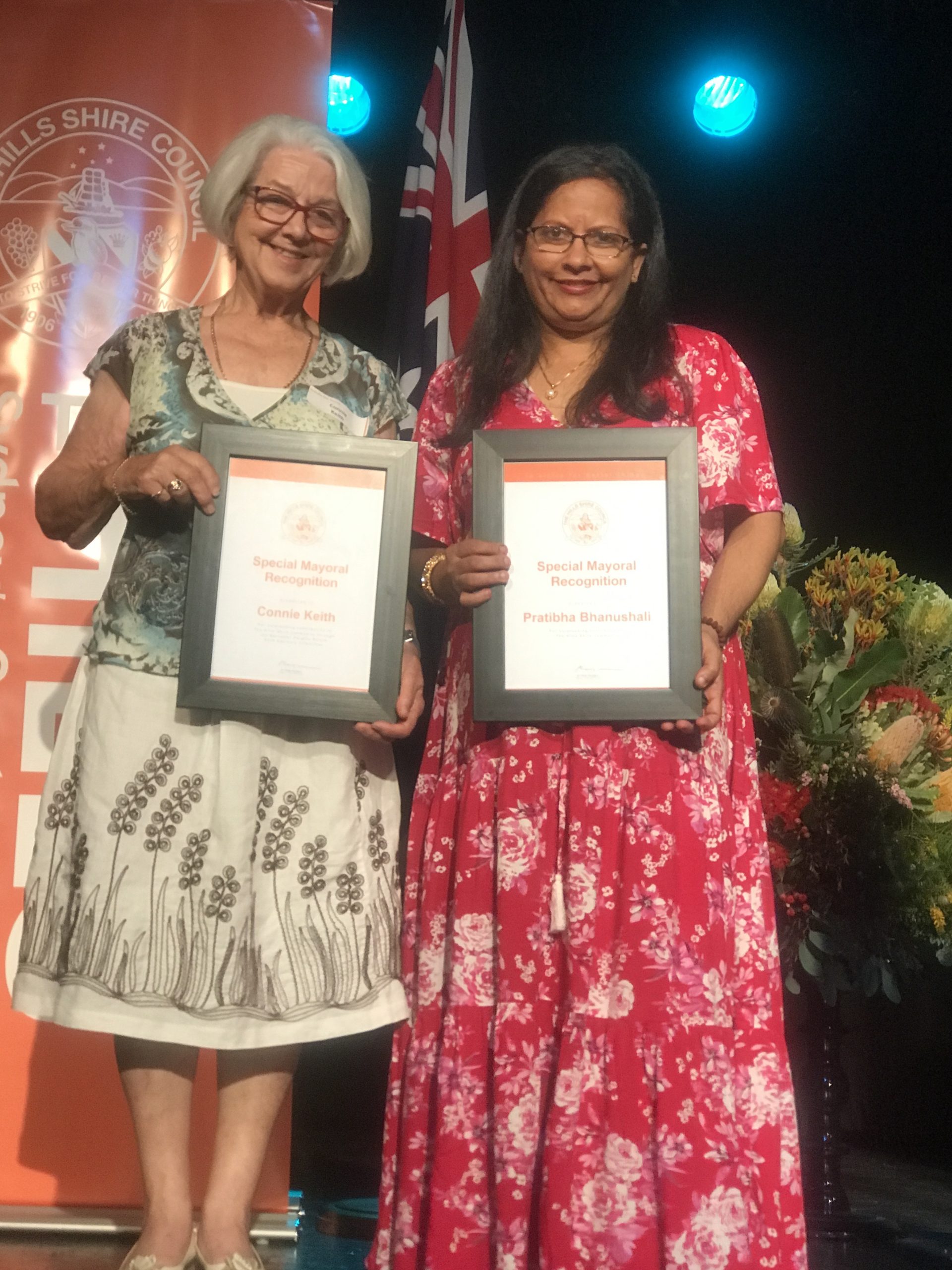 Highly Commended Awards were presented to: Shubha Kumar and Patricia Lee (Seniors), Claude Corrente (Environment), Mia Macklin and Ziyan Tejani (Youth), Positive Vibes and Fit Kidz Foundation (Community Group).
[/vc_column_text][/vc_column][/vc_row][vc_row el_id="#anchor Three"][vc_column][vc_column_text]
Hills Shire Mayor Peter Gangemi Congratulation Message
Hills Shire Mayor Peter Gangemi congratulated the award winners and finalists.
"Our community is better off thanks to these people and groups who donate their time and efforts mainly in a volunteer capacity," he said.
"I am so thankful for the work that each of these people do and I hope today's awards go some way to showing how much The Hills community appreciates them."
He thanked Connie Keith for "helping Council to maintain, promote and enhance Balcombe Heights Estate which is enjoyed by many people and groups for its vast range of facilities, rooms and history."
The Mayor also thanked Pratibha, Founder and President of the Powerful Empowered Women organisation, for the fundraising she did supporting organisations in the Hills.
[/vc_column_text][/vc_column][/vc_row]