All
Hawkesbury City Council
Hawkesbury Library Service to celebrate Library and Information Week 2023
There will be a book sale and treats at the Richmond garden party.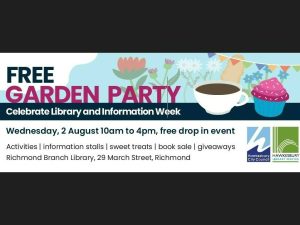 ---
The Hawkesbury Library Service will participate in the nationwide Library and Information Week 2023 celebration from 31 July until 6 August.
A free garden party will be on 2 August (10:00 AM to 4:00 PM) at Richmond Branch Library's new garden at 29 West Market Street, Richmond. The party will have "a book sale, sweet treats, giant chess, giveaways and information stalls," as per the Hawkesbury City Council.
The Hawkesbury Community Nursery will give away plants starting at 2:00 PM.
In addition, there will be three talks:
10:00 AM to 11:00 AM: 
"What Outreach Services does the Library offer? Find out all about children's services as well as special needs for older persons or people unable to visit."
11:00 AM to 1:00 PM: 
"Interested in the history of the Hawkesbury? Learn how to access historic images online and pick up some free postcards. Want to start researching your family history, come and talk to an expert. We have guides and charts to give away."
2:00 PM to 3:00 PM:
"Discover more about eServices and what is available online. Tech Help experts on hand to give you a hand with all your Tech questions."
Library and Information Week 2023 is led by the Australian Library and Information Association (ALIA), which was founded in 1937. It is an organisation focused on library and information services, and its vision is to promote these services through advocacies and support.
"This is the week to bring into focus the right questions to ask: how do we confirm the accuracy, determine copyright, and ensure fair use, when dealing with this type of information? How does it factor into our research methods, help shape our ideas about the world around us? How worried do we need to be?" ALIA stated.
"Importantly, a source is a form of truth telling, and with the upcoming Referendum on the Voice to Parliament library staff are on hand to support people's understanding, advise on appropriate sources and help the community make informed decisions when it comes to their vote."
As the buzz and the prevalence of artificial intelligence continue to make rounds in traditional and digital spaces, ALIA aims to emphasise the practice of diligence and a careful eye on various types of information.
"Of course, questions about sources aren't limited to the world of AI or current events. A source takes many forms. It is an oral history, a family tree, an origin story. It is a piece of metadata, a text, an author, an informant. Etymologically, it is a wellspring, and it can invigorate, enlighten and pique our curiosity at the same time that it can activate our scepticism."                 
Image credit to Hawkesbury City Council and Hawkesbury Library Service.