All
Local Events
Hawkesbury Fest 2023 to host local groups and businesses
Charge up your social batteries, as the local celebration is just a few weeks away.
---
The Hawkesbury Fest 2023 is right around the corner. Expect a thrilling gathering of local groups and businesses for a day of festivity and fun on 6 August.
It is free of charge. Head to Governor Phillip Park, Windsor, on Tuesday as festivities start at 10:00 AM and conclude at 3:00 PM. Enjoy the sight of the Hawkesbury River and its surrounding bushlands. There will be free rides and face paintings, stalls, and various activities for children.
The scheduled program are as follows:
10:00 AM:            Hawkesbury Fest begins
10:15 AM:            Mayor Welcome, Welcome to Country, Mayor Speech
10:35 AM:            Farmer Dave K9 Fungility
11:10 AM:            Dusty Music
11:45 AM:            Farmer Dave K9 Superwall
12:20 PM:            Wil Linder
12:55 PM:            Mady Disbray
1:30 PM:              Farmer Dave K9 Fungility
In addition, there will be a community, market, Council and sponsor, and food stalls. Organisations such as Peppercorn Services, Richmond Community Services Inc, and Hawkesbury Environment Network will be present along with Council Information, Strategic Planning/Sustainability Tent, and the Hawkesbury LMG (Library, Museum, Gallery).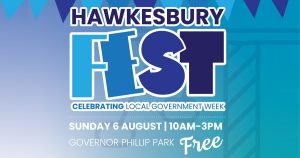 There will be abundant food as stalls such as Crosdales BBQ, Turkish Gozleme Catering, Lambda Souvla Grill, and Bite Me Mini Donuts, among others, will be on site. A complete but growing list of attending stalls is available here.
Emergency services will be on guard and ready to assist. These services are St John First Aid, Hawkesbury SES, RFS – Hawkesbury Headquarters, Hawkesbury Local Area Command, NSW Ambulance, and Fire & Rescue Windsor.
Interested stalls and businesses can join the Hawkesbury Fest by contacting the Hawkesbury Events Team at the Hawkesbury City Council's dedicated webpage.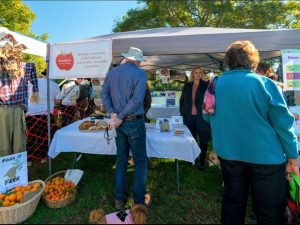 The Hawkesbury Fest this year is sponsored by the Ruff Track Show and A.J. Bush & Sons Bush's Proteins. Small businesses also support the event: Bendigo Bank – Community Bank North Richmond and Richmond, Café Cornerstone, KombiKeg, and Lily Home Collective.
Since 2018, the Council has participated in Local Government Week, led by an independent Sydney-based organisation called Local Government NSW. It is usually held between the last week of July and the first week of August. This year, it will begin on 31 July and until 6 August.  
In 2020, the Hawkesbury Fest was celebrated online due to the COVID-19 pandemic restrictions and to comply with the requirements set by the Federal and State Governments. It returned to its physical operations on August 2021.
Image credit to Hawkesbury City Council.