All
Community News
Financial
newsletter
Hills and Hawkesbury suburbs are NSW's top locations for First Home Buyers
This is according to the second quarter property report by InfoTrack.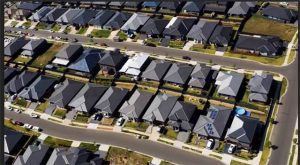 ---
Suburbs in Sydney's northwest and the Hawkesbury region are the most popular location for New South Wales First Home Buyers, according to the latest quarterly property report released on 12 July 2023.
Postcode 2765 had the highest number of First Home Buyer sales of any New South Wales location from 1 April to 30 June 2023, according to InfoTrack's sales data.
InfoTrack's Head of Property Australia, Lee Bailie, said the postcode 2765 encompasses 13 suburbs.
"Those suburbs include the Hawkesbury's Vineyard, Oakville, and Maraylya, and neighbouring suburbs Grantham Farm and Riverstone. Marsden Park, Box Hill and Richards are also in the postcode," Mr Bailie said.
The other suburbs are Angus, Richards, Grantham Farm, Melonba (Blacktown LGU), Berkshire Park (City of Penrith), Gables, Nelson, and Vineyard (shared with Blacktown and Hawkesbury City).
"The postcode 2765 rose from the third spot in the first quarter of the year, to be the number one location last quarter," Mr Bailie said.
"Incredibly, monthly purchase amounts for this location quadrupled when comparing January to June."
Strata Owner Occupied led the Q2 list for NSW First Home Buyers at 47% from 46% in Q1 Meanwhile, House Owner Occupied decreased to 48% from 50% in the previous quarter.
On the other hand, other property types, such as Vacant Land Zoned (for residential use), Strata Rental Purposes, and House Rental Purposes, dwindled in the second quarter.
The report also found more than half (52%) of all properties sold in this postcode last quarter were in the $500,000 – $1 million price bracket. Owner/Occupied houses were the most popular property type, representing 67% of all properties purchased.
Mr Bailie said InfoTrack's Property Market Update Q2 2023 confirmed Sydney's northwestern suburbs were a property hotspot.
"Coming in at second place on our top 10 list for First Home Buyers was postcode 2155, which includes Kellyville, Rouse Hill and Beaumont Hills," Mr Bailie said.
"This location was in the number one spot last quarter and clearly remains a popular choice among those buying their first properties."
The report found there were two new entrants to the top 10 list for NSW First Home Buyers – the southern Sydney suburb of Arncliffe, Turrella, and Wolli Creek (postcode 2205) and the inner-city suburb of Waterloo and Zetland (postcode 2017).
According to InfoTrack, the former had a 260% increase in aggregated monthly purchases compared to January. 85% of the properties purchased were Strata Owner Occupied, while 36% of sales were properties between the $600k to $700k range.
The latter made continuous strides in terms of growth. The most popular property type is Strata properties at a staggering 92% share.
Meanwhile, two postcodes exited the list. These are the western Sydney suburbs, such as Mt Druitt, Habersham, and Whalan (postcode 2770), and the Central Coast suburbs (postcode 2250).
In June, InfoTrack also saw some of the busiest search activity of the year on its InfoTrackGO site, where prospective buyers can order Title Searches and conduct their own research into a property or suburb they're interested in purchasing.
InfoTrack is a Software as a service (SaaS) pioneer established in 2000 which connects property buyers to professionals such as real estate agents, lawyers, and mortgagees.
The report can be viewed here.