All
Hawkesbury City Council
Hawkesbury City Council: Grab-and-Go Bags Ready for Pickup
Be ready on-the-go when disaster strikes with a Go Bag.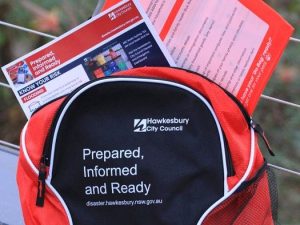 Hawkesbury Residents can get a free bag and a waterproof document pouch in select locations throughout the district, as per the Hawkesbury City Council on 29 June 2023.
The bag is part of the Prepared, Informed and Ready campaign that aims to give residents multiple resources in understanding the risk towards various disasters such as flooding, bushfire, storms, and heat waves. It also provides avenues for information dissemination and aid when disaster strikes.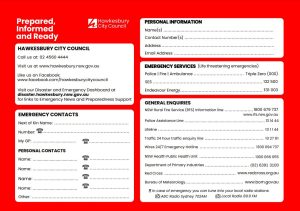 The bag includes a fact sheet with contact numbers of emergency services, a personal directory, and a checklist of what should be inside the Grab-and-Go bag; these include checkboxes for supplies such as water, chargers, batteries, sanitisers, water purification tablets, cash, and a local map.
According to the Hawkesbury City Council, the free Grab-and-Go Bags can be picked up from these locations:
COUNCIL'S ADMINISTRATION BUILDING
366 George Street, Windsor
Monday – Friday, 9 am to 4 pm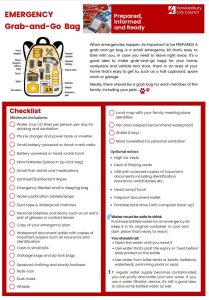 HAWKESBURY CENTRAL LIBRARY
300 George Street Windsor
Monday – Friday, 9 am to 7 pm
Saturday, 9 am to 1 pm
Sunday 2 pm to 5 pm
RICHMOND BRANCH LIBRARY
29 West Market Street Richmond
Monday – Friday, 9 am to 7 pm
Saturday, 9 am to 1 pm
VISITOR INFORMATION CENTRE
328 Hawkesbury Valley Way, Richmond Open 7 days, 9 am to 4 pm
HAWKESBURY REGIONAL MUSEUM
8 Baker St, Windsor Open 6 days, 10 am to 4 pm (closed Tuesdays)
WEEKLY COMMUNITY HUBS between 9:30 am to 1 pm
Bowen Mountain Park Hall, 103 Lieutenant Bowen Road – Mondays
Wilberforce School of Arts Hall, 531 Wilberforce Road – Wednesdays
Colo Heights Hall, 2996 Putty Road – Thursdays
St Albans School of Arts Hall, 7 Upper Macdonald Road – Fridays
Image credit to Hawkesbury City Council.