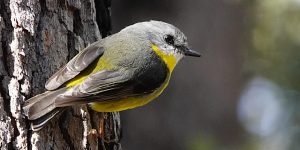 In line with the upcoming National Bird Week activities and celebrations, go along in the Hawkesbury Bushcare Bird Tour at Kurrajong on Friday, 20 October 2023.
The guided walking tour will run from 9:00 AM until noon at Matheson Park for a bird-watching activity suitable for amateur and experienced birders. It will be guided by a bird expert, Eric the Birdman, with a chance to see various avian wildlife in the area.
"Eric, a passionate bird expert, will guide you through the beautiful Hawkesbury region, known for its diverse bird species. Get ready to spot colourful parrots, graceful eagles, and many other fascinating birds," the announcement indicated.
Only children aged 13 and above and individuals residing in the Hawkesbury Local Government Area will be allowed to attend.
Matheson Park is located at 6 Mill Road in Kurrajong, NSW, 2758.
Attendees are advised to wear comfortable enclosed shoes, long sleeves and pants, a hat, sunglasses and sunscreen; bring a drink, a small snack, a camera, binoculars for bird watching, and personal medical equipment such as Ventolin and Epipen.
The Hawkesbury Bushcare tour is free of charge. Reservations can be made online via Eventbrite: Hawkesbury Bushcare Bird Tours with Eric the Birdman.
The National Bird Week will run from Monday, 16 to Sunday, 22 October 2023.
BirdLife Australia, a bird conservation organisation, intends to lead the awaited annual Aussie Bird Count. Now in its 10th year, the event gathers amateurs and enthusiasts in their communities, play areas, and parks, counting how many birds they spot within 20 minutes.