By Michelle Byrne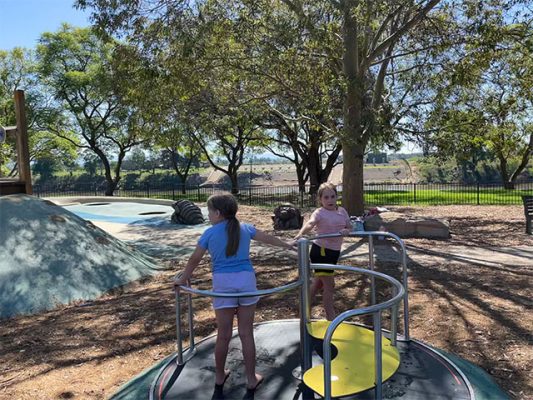 Set on the banks of the beautiful Hawkesbury River sits Governor Phillip Park – an "awesome" park for kids and families according to my 7-year-old twins, Maddie and Alexis.
Windsor or "the little town on the river" as Maddie refers to it as, has fast become a favourite destination for us. We have visited several times and explored the township, the Australiana Village, and the Windsor Regional Museum.
We have walked along the river and through the town centre looking at the boutique shops and enjoying visits to the ice cream shops as well as Lollies n Stuff, Sydney's largest lolly shop.
Being a warm autumn day, we decided to visit Governor Phillip Park after our usual visit to Windsor for ice-cream. Named after Governor Phillip, the first Governor of the Colony of NSW South Wales, this park is no ordinary park and it is easy to see the history of the Hawkesbury reflected in the design of the playground.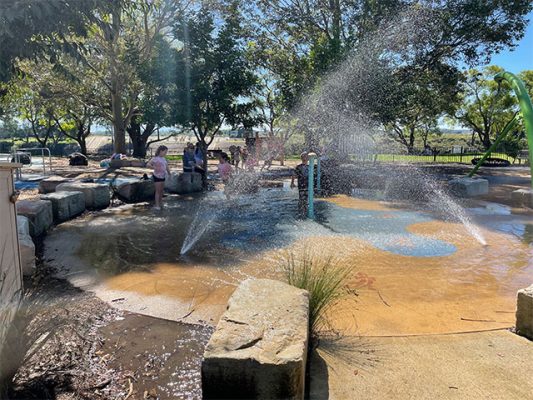 The blue soft fall surface that winds through the fully fenced playground represents the Hawkesbury River. The sandstone fort with a slide, a tunnel underneath and a climbing mound up the side along with the large sandstone bricks around the playground pay homage to Windsor and the early colonial days. The net tunnel represents fishing by local Aboriginal people in the river and creeks in the region.
The playground also focuses on nature play with logs and sandstone stepping stones as well a focus on animals including 3 large metal cicadas to climb on and a large lizard that wraps around in-ground trampolines. Smaller metal animals such as frogs, crabs and bats are hidden around the playground for children to find. A bird nest swing is also provided.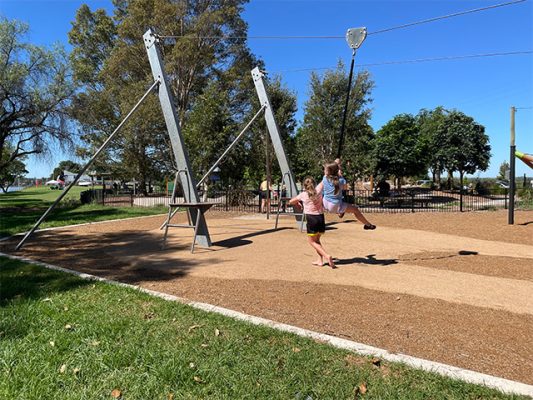 The park was also designed in consultation with the Touched by Olivia foundation and as a result is an inclusive playground that children of all abilities and ages can enjoy together. Sensory play is provided with musical chimes, merry-go-round, chalk boards (BYO chalk), mirrors as well as an easily accessible water play area with a water fountain in the middle with several more spouts coming up from the ground.
Outside of the fenced playground are two flying foxes as well as large, sheltered picnic table areas with electric BBQs. There are plenty of large grassy areas along with toilets as well as walking/cycle paths. It is a fantastic place for family and friends to enjoy a catch up or celebration particularly with the sparkling Hawkesbury River as a backdrop.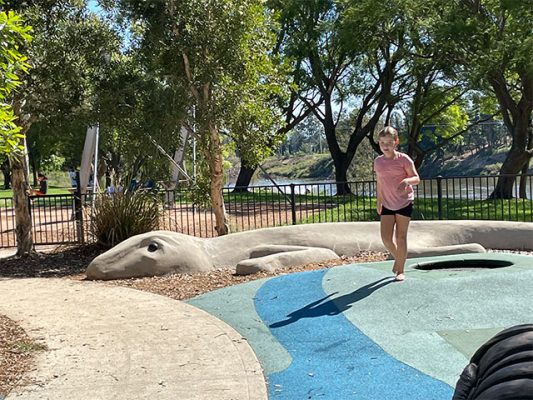 Governor Phillip Park is now one of our favourite parks in the region. For me it is about the history reflected in the park and for Maddie and Alexis it is just an "awesome park" with lots of water and close to the best ice-cream and lolly shops in Sydney.