All
School News
Galston High School Local History Books Donation – "The Tom Richmond Collection"
Galston High School's library burnt down in May 2014. Eventually a wonderful new library building was rebuilt in its place. However, it currently has very few local history books. The school is now seeking books donations to help rebuild its local history collection.
On 14th September 2021, former Galston High School English and History teacher, Tom Richmond OAM, passed away. Tom was a highly respected local historian and educator who had an extensive collection of local history books, including books he authored himself, most of which are in perfect condition.
Tom Richmond's local history book collection will be presented as a book donation to Galston High School and named "The Tom Richmond Collection".
When Galston High School opened in 1974, Tom Richmond became Head Teacher for both English and History. During his time at Galston HS, he was part of a group that took on the daunting project of restoring the dilapidated sandstone building (built c. 1866) that was located on the school grounds.
It was named, Waddell Cottage, after the family that built and lived there for over 100 years. Today, thanks to Tom's innovation, it stands impressively fully restored near the front of the school gates (although the roof currently needs some storm damage repairs).
Tom Richmond also utilized the restored Waddell Cottage as part of Galston High School students' education and held different forms of history lessons in the historic building.
Seeking Book Donations – Books Donation Programs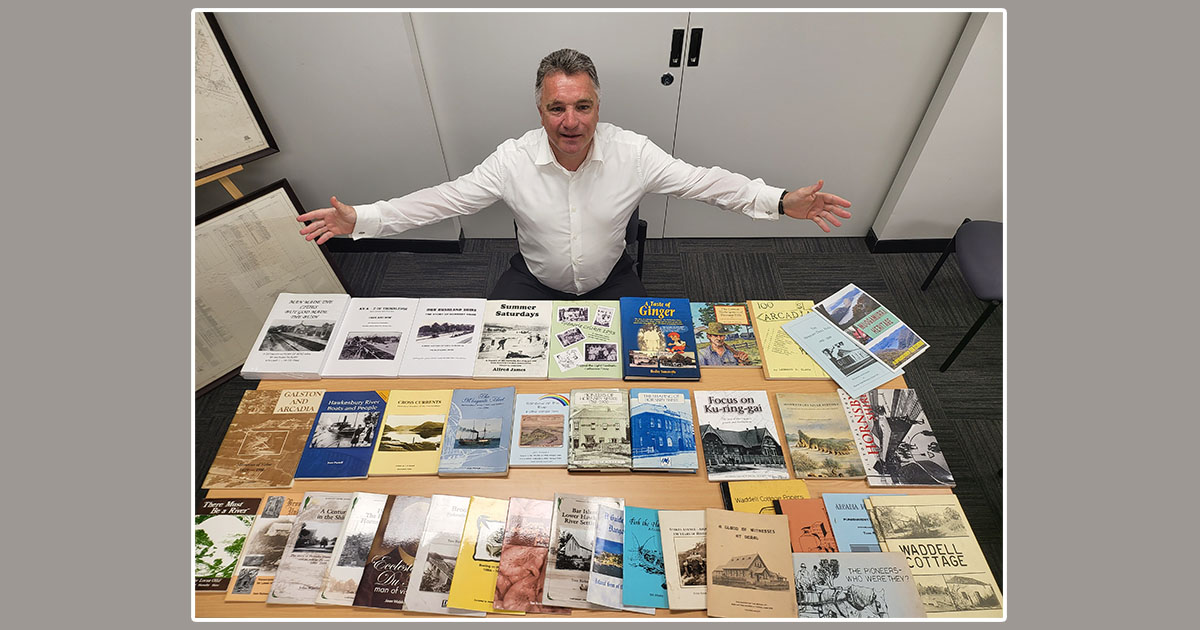 Tom's work with the Waddell Cottage project spread into the researching of the history of the Galston, Arcadia and Dural area and a resource bank was collated at the school. This was further enhanced following extensive research undertaken by Tom Richmond in the State Archives.
Put simply, Tom was seen as a "champion" to many locals and local families whose family histories he directly assisted to reconstruct and record in detail. Many of these detailed family histories simply would not have happened without Tom's considerable efforts.
Tragically, many of the unique and valuable historical records that Tom pulled together were lost in the Galston High School library fire a decade ago. Local history groups are pulling this information back together to re-present it to the school to be used as reference material.
While teaching at Galston, Tom Richmond became known as a leader in the field of local history education and took part in curriculum development related to teaching local history. He spoke at both NSW and Australian History Teachers' conferences and was a member of several committees, including the ABC Advisory Committee.
In 1976, while teaching at Galston High School, Tom completed his first published book, Felons and Fair Ones, which was a school text. He went on to author many other books mostly on history in the Hornsby Shire. Copies of these local history books authored by Tom are included as part of the Tom Richmond Collection for Galston High School.
On behalf of the Hornsby Shire Historical Society, Dural & District Historical Society, Hornsby Shire Council and Matt Kean MP, it is our pleasure to present the Tom Richmond Collection to Galston High School.
A special mention to Hornsby Councillor Nathan Tilbury who conjured up the idea of Tom Richmond Collection for Galston High School and has managed the process from the very beginning.
Thank you to the school Principal, Karen Sheppard, for supporting this project and the school librarian, Allison Yurkowski, for helping co-ordinate the presentation to the school.