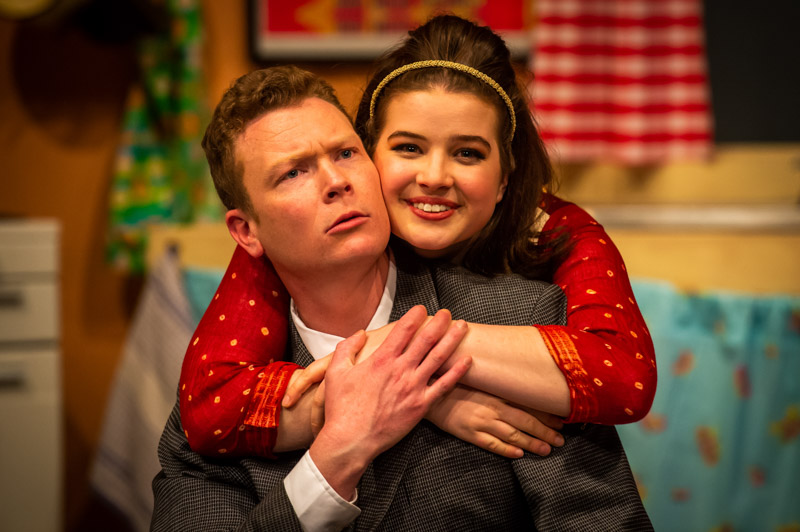 Watching her performance as Toni in the Pavilion Theatre's hilarious production of Cactus Flower, it's hard to believe that it's only Daisy Alexis' third play with the iconic local company. Daisy shines brightly as Toni throughout the entirety of the play, bringing tangible energy and life to a character she describes as "quite eccentric and super kooky. She's this wild person that's trying to navigate this situation, but also has a lot of kindness in the things that she does." 
Though Cactus Flower is Daisy's third production with the Pavilion, the 18-year-old Hills local has been acting for a long time – technically since she was a toddler. "I had my debut in a Wiggles commercial at the age of three, which 'kickstarted' my career!" she jokes. "Not that I remember it much. But I do have the video!"
From there, a passion for theatre grew in Daisy as her parents took her to theatre productions throughout her youth. "I think having that exposure really influenced me, and my love for it just grew from there," she says. "I did some local musical theatre productions when I was 13, and that helped me build my confidence and go 'This is what I really like to do.'"
While finishing Year 12 last year, Daisy was cast in her first Pavilion Theatre production Picasso at the Lapin Agile, a mix she describes as quite balanced. "I would study and do my exams throughout the day, and then I would come to the theatre in the night, and I just loved it. I was getting to do what I love and that just kind of balanced everything else."
Earlier this year, Daisy was part of the Pavilion's production of Funny Money, where she acted alongside Cactus Flower's director Stephen Snars who she was talking to about the then-upcoming production. "I was thinking about auditioning," Daisy says, "and I asked him if he could send me the script, I'd have a read. 
"But I approached him and said 'You know what, I'm actually going to audition for the next one.' And he sat me down for 40 minutes and ended up convincing me why it would be really great to do. And then I was convinced, so I auditioned for it, and then got the role!"
Daisy was drawn to Toni and Cactus Flower as a real opportunity to build a character. "We hadn't really had much opportunity to do that in previous shows, to sort of have a deeper relationship with the people that make up the world Toni lives in," she comments. "So that was quite exciting. I spent a lot of time reading the script, and rereading and rereading… so I could pull out all the information I could about the character and understand the relationship and world that she lives in." 
Having the Pavilion as a space to explore that character, as well as have a blast performing, is something that Daisy really values. "Stephen was really about bringing out the fun of the play, and getting to play with the cast has just been amazing," she says. "I owe a lot of thanks to him as a director, and how much fun we're having as a cast. I think the audience will be able to see that, that there's so much love that's gone into it from both cast and crew, and I think they'll really love it."

Make sure to see Daisy and the rest of her terrific cast in Cactus Flower, which is running until October 14th at the Pavilion Theatre at Castle Hill Showground. Tickets are $30pp for adults, or $25pp concession and are available at https://paviliontheatre.org.au/cactusflower/.