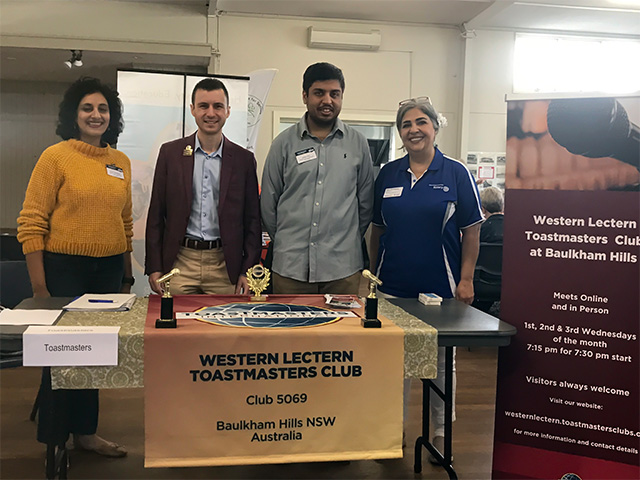 Hundreds of residents visited Harvey Lowe Pavilion at Castle Hill Showground on Sunday (April 30th) for Community Connect organised by Norwest Sunrise Rotary Club.
The annual Community Connect is a one-stop market place for residents looking to connect with not for profit organisations in the area.
The market-style event showcased the work of over 45 community organisations including social groups, service clubs and charity organisations looking for volunteers and members.
President of Norwest Sunrise Rotary Club Azita Abdollhanian said: "It was great to see the collaboration between the community groups."
She said as well as being an important information gathering event for residents to attend it also gave community groups a chance to find out more about each other.
"It is an event that strengthens the fabric of this fabulous community," she said. Visitors included Castle Hill MP Mark Hodges and Hills Shire Mayor Peter Gangemi who both praised the event and its purpose.
Joanne from Riding For the Disabled _ Tall Timbers at Gables said attending Community Connect had been fabulous. Some people had put their names down as potential volunteers and they had also made good connections with several groups at the event including Hills Community Aid, Rotaract and the Hills Youth Army.
Carolyn and Gisela, Friends of Bella Vista Farm, said how wonderful it was to have the opportunity to promote the historic farm's Open Days on the first Sunday of the month and were delighted to meet a number of people who showed great interest in visiting the Farm this Sunday 7th May from 9-3pm celebrating Heritage Day.
Linda from Toongabbie said: "There are several things I am interested in, it's been very good."
Leo from West Pennant Hills said: "It's a great initiative and a way to know what's going on in the area."
Lynne from Castle Hill said: "I signed up for Days for Girls and I am joining the Wanderers bushwalking group. There are a lot of groups I would have joined if I had more time."
Margaret and Rob from Winston Hills said they were interested in following up with three of the groups at Community Connect. "It was very well-organised and worthwhile."
Margot from Kellyville took away a lot of information from several groups. "There are so many people passionate about what they do in the community. I was very excited to see Friends of Bella Vista Farm."
Ryan from North Rocks said he took the opportunity to find out more about the Positive Vibes Foundation and its work in the area of mental health and the Men's Table and Community Connect is an initiative by Norwest Sunrise Rotary Club and is supported by Hills Shire Council.
Norwest Sunrise Rotary Club meets on Friday mornings at 7am at the Hills Shire Cafe in the council admin building at 3 Columbia Court, Norwest.