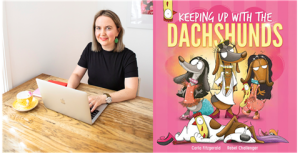 Carla Fitzgerald will be at the Castle Hill Library to read her debut book, Keeping up with the Dachshunds, on the 4 July 2023.
According to the Hills Shire Council (HSC) announcement, the picture book "is a hilarious parody about friendship, jealousy and discovering what you love." In addition, interested kids can expect "Carla will give her best tips for writing humorous stories and creating great characters," as per the HSC.
The book, published in 2022, is illustrated by Rebel Challenger.   
It will begin at 2:00 and will end at 3:00 PM. After the 1-hour program, there will be book signings and sales. The event is suitable for children in school years K-2.
Tickets cost $15.50 and can be purchased online via Eventbrite here: Author Carla Fitzgerald – Keeping up with Picture Books (K-2).
The HCC reminded that "[t]his event is for children only. Due to space restrictions in the room, parents will not be permitted and do not require a ticket. This event is fully supervised by library staff."
The writer-lawyer from Sydney also authored the middle-grade novel, How to be Prime Minister and Survive Grade Five. Carla Fitzgerald will also hold another event about the book on the same day.
The Castle Hill Library is located at 14 Pennant Street, Castle Hill, NSW 2154, Australia.
Image credit to The Hills Shire Council.