Banana Cabana, in Dural is one of the most amazing places I have visited in the Hills and Hawkesbury and until recently I didn't even know it existed.
For over 40 years this tranquil and peaceful place has been home to more than 90 monkeys who have retired from zoos, circuses, research facilities and private ownership. Currently 39 monkeys call Banana Cabana home and each one of their stories is fascinating and each monkey is unique.
Equally fascinating is the story of owner Susan Gray and how she came to own her very first monkey Bo-Bo in the 1980's. An animal lover by nature, Susan grew up on the Northern Beaches where she was forever rescuing injured and sick animals. In 1982, a time before licensing was required to own exotic animals, her partner bought home Bo-Bo which sparked Susan's love of monkeys and her desire to ensure every monkey that crossed her path lived its best life possible. By 1987, Susan owned 5 monkeys and since then the number of monkeys she has been licenced to hold and exhibit has grown.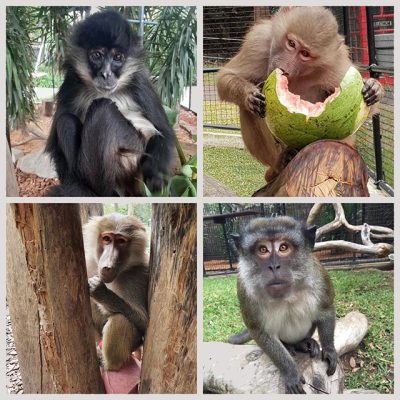 Susan describes her monkeys as being "individuals, different in personality and in temperament" and it is interesting to see the interaction between the monkeys and humans as well as between the monkeys themselves. Each monkey has its own name, its own likes and dislikes and each behaves differently. Some of the monkeys love human attention and will immediately scurry over in the hope of being rewarded with a food treat and others like Missy, are very shy.
Banana Cabana is very different to visiting monkeys in a zoo. Here the monkeys live out the rest of their days, some of them are old, others have health issues, and some aren't as active or as attractive as they once were. However, Susan is committed to getting to know the monkeys and providing for them as individuals. There are the baboons who enjoy watching Wiggles on a Wednesday, there is a monkey retired from the circus who loves riding a rocking horse and another with a skateboard. The one thing that all the monkeys have in common is their love of food with avocado and pomegranate topping the list as favourites.
It is easy to see why Susan loves her monkeys so much, and if you ask her what she loves most about Banana Cabana her face immediately lights up and she will tell you it's "the joy the monkeys bring" to her and its clear, Susan brings much joy to her monkeys.
At Banana Cabana, the monkeys are living their best lives and I encourage you to visit and support Susan in her endeavour to provide for retired monkeys. Visitors are given a tour, can feed the monkeys bananas and enjoy light refreshments in the gardens.
For more information or to book call 9651 1108 or email [email protected]