Vena Stoneham OAM
, Cherrybrook has been honoured in the Australia Day Honours Awards announced by the Governor General David Hurley for her service to the community, particularly through the church.
Vena turns 91 in a few week's time and will have a lot to celebrate.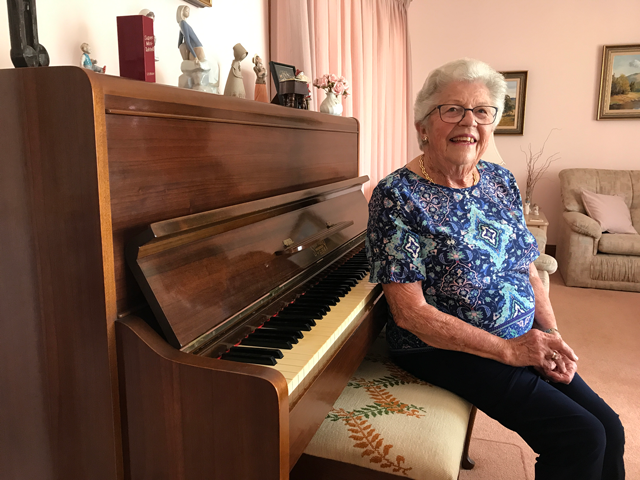 She says it was "a real joy" to be told she was being an awarded an Order of Australia Medal alongside some celebrities.
"It's such a great honour."
The mother of three has seven grandchildren, four great, grandchildren and a fifth on the way.
She has been an active church member all her life, growing up in the Presbyterian Church which then merged with the Methodist and Congregational Union to form the Uniting Church.
She taught scripture in Primary Schools for 50 years, mostly at Cherrybrook Public School but also at West Pennant Hills and John Purchase.
Before volunteering as a scripture teacher Vena taught Sunday School at Bethlehem Uniting Church at Thompson's Corner.  Vena has loved music all her life and started learning piano at the age of 7.
"I am very grateful that my parents sent me for piano lessons. Music is something not everyone has. I have been able to share my love of music with thousands of people and bring them joy."
She taught herself to play the organ and for over 50 years has been playing the organ at church and for funerals and weddings at both Cherrybrook Uniting and Bethlehem Uniting Church.
She is on the roster to play at Cherrybrook Uniting Church on the next two Sundays.
She has been choir organiser and conductor for over 20 years and church secretary for 25 years. In April Vena will reach another milestone, 40 years as a church elder and she is also an active committee member.
Vena says volunteering has been a big part of her life. "Volunteering is about being a helper. "
She plans to stay at home on Australia Day to receive telephone calls from family  and  friends.
"I do know a lot of people," she says. 
It's a great understatement.