[vc_row][vc_column width="1/6″ offset="vc_col-lg-1/5 vc_col-md-1/5 vc_col-xs-1/5″][us_image image="67173″ size="thumbnail" align="left" style="circle" has_ratio="1″][/vc_column][vc_column width="1/12″ offset="vc_col-lg-4/5 vc_col-md-4/5 vc_col-xs-4/5″][vc_column_text]By
Bev Jordan
[/vc_column_text][us_post_date][/vc_column][/vc_row][vc_row][vc_column][vc_column_text]MONICA MATAK EVANS was 43 when she was diagnosed with ovarian cancer.
The Kellyville resident had six rounds of chemo and now volunteers to raise awareness of Ovarian Cancer and raise funds for research. Her advice to women is to "pay attention" t o their body.
If they have any symptoms that are unusual for them, for more than two weeks, get it checked out. Early detection is key.
This is her story:
"My name is Monica and 2017 was going to be my year! I had a new job but was a little tired, who isn't? I was aiming to lose weight – it was working I thought; I was watching what I was eating. I thought my hard work was paying off.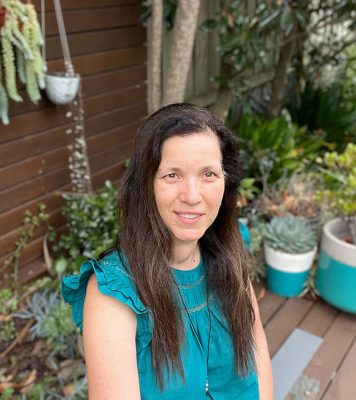 "I was feeling constipated, (too much info I know) and I had a sore lower back. All the symptoms I had been experiencing are symptoms of ovarian cancer but I had no knowledge about these signs and symptoms then. Unfortunately, the symptoms are so subtle and generally ovarian cancer is diagnosed in the later stages.
"Many women push the symptoms aside, as they are so vague. They are looking after their families and quite often put themselves last.
"Vague symptoms like bloating and fatigue are often confused with other women's health problems, IBS, menopause or food allergies and are easily explained away.
"Ovarian cancer is the leading cause of death of all gynaecological cancers. The reality is that I was one of the lucky ones. I was diagnosed early. Having been diagnosed at stage one though was not a walk in the park for me. I still had invasive surgery, I still had chemo. I still lost my hair. I still feel fatigued at times.
"Most women however, are diagnosed at later stages. Less than half of the women diagnosed will survive beyond five years. Ovarian Cancer also has a high rate of recurrence so even though they may have had successful treatment, for many, the cancer returns within 18 months."
Below are some of the symptoms. It is important to see your GP if you experience any of the symptoms, especially if they are unusual for you and are persistent.
• Unexplained fatigue
• Unexplained weight gain or loss
• Changes in bowel habits such as constipation
• Abdominal or pelvic pain
• Increased abdominal size or persistent abdominal bloating
• Appetite loss or feeling full quickly or indigestion
• Lower back pain
• Urinary changes such as frequency or urgency
"It has been 5 years since my diagnosis. I've been one of the lucky ones diagnosed early and no recurrence to date. Being diagnosed early I have gone on to lead a relatively normal life.
"Early detection is key, please listen to your body."
February is Ovarian Cancer Awareness Month. Ovarian Cancer Australia is an independent national not-for-profit organisation, supporting women diagnosed with ovarian cancer www.ovariancancer.net.au[/vc_column_text][/vc_column][/vc_row]