[vc_row][vc_column width="1/6″ offset="vc_col-lg-1/5 vc_col-md-1/5 vc_col-xs-1/5″][us_image image="67486″ size="thumbnail" align="left" style="circle" has_ratio="1″][/vc_column][vc_column width="1/12″ offset="vc_col-lg-4/5 vc_col-md-4/5 vc_col-xs-4/5″][vc_column_text]By
Lawrence Machado
[/vc_column_text][us_post_date][/vc_column][/vc_row][vc_row][vc_column][vc_column_text]
The rapidly growing suburb of Box Hill will be host to a massive multi-sports complex and reserve, which will benefit local cricketers and basketballers.
The Hills Shire Council has already begun work on Box Hill's first dedicated sports and recreation centre at Brindle Pathway. The masterplan for the 5.3 hectare complex features two full sizes rectangular fields which can be used as a cricket oval. There will be two cricket nets, which will be a boon considering the growing number of young cricketers competing in the local and representative events.
The installation of specialist sports field lighting will make night time practice and play possible.
The Hills Shire Mayor Dr Peter said these are exciting times for the Box Hill community and underlines the council's commitment to improving sporting facilities and active lifestyles.
"We are so excited to begin construction at Box Hill's first sport and recreation reserve," Mayor Gangemi said.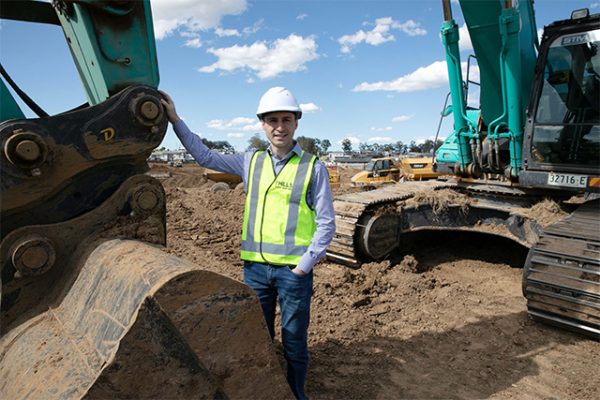 "This project will deliver the sport and recreational facilities that this new community needs – now and into the future. It also complements council's on-going investment into providing quality sporting facilities that promotes health, wellbeing and community connectedness.
"I look forward to people using this new sports complex very soon."
The new centre, to open in mid-2024, will have an amenities building, a children's playground with picnic facilities and a 130-space carpark. Residents can also enjoy a nature walk and shared pathways, which will connect to the wider Shire network.
The present stage of construction involves the importation of soil to reach the required design level, with work speeding up when Terry Road is reopened for traffic.
"We will be taking advantage of the school holiday period, which usually has lower traffic levels, to get as much done as possible without overly impacting residents," Mayor Gangemi said
NEW FOOTBALL, CRICKET FIELDS
A third natural turf football field and a competition standard cricket field at West Pennant Hills will be welcomed by the Hills sports fans after the council accepted a tender at a recent meeting. The upgrade at the George Thornton Reserve includes the movement of two existing fields to the east, the renewal of the lighting and irrigation as well as the construction of a new cricket pitch and cricket practice nets.
Mayor Dr Gangemi said these works will result in three rectangular senior-sized natural turf playing fields as well as a premier competition level standard cricket ground.
The upgrade begins this month and should be opened by early 2024, weather permitting.[/vc_column_text][/vc_column][/vc_row]