Every year Local MPs nominate who they think is worthy of recognition as their electorate's woman of the year and this year's local winners include Jenny Walker, Principal of Kellyville Public School and Bella Vista businesswoman and founder of the Powerful Empowered Women's Network Pratibha Bhanushali.
State MP for Castle Hill Ray Williams who named Jenny Walker as Castle Hill electorate Woman of the Year said she is the very definition of a 'Woman of Excellence'.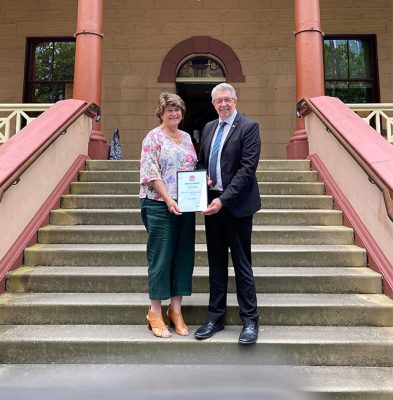 The citation read: "Jenny became Principal of Kellyville Public School in 2007 and has transformed the school into one of the most well respected and high performing schools not just within The Hills district, but across Greater Sydney.
"Jenny's outstanding calibre of leadership and excellence in her field has ensured that she is a respected and admired member of the local community.
"She is a role model to other principals as well as the roughly 30 full time equivalent classroom teachers she manages, alongside deputy principals and assistant principals. Her attitude and dedication has ensured she will have a lasting impact on Kellyville Public School and the surrounding area."
An educator for over 40 years, Jenny also mentors, inducts, trains and supports other principals as they progress in their careers.
Pratibha Bhanushali was named Baulkham Hills Woman of the Year by Baulkham Hills MP David Elliott for her extensive contribution to the Hills community.
She set up her Bella Vista based accountancy business 16 years ago but wanted to connect other women in local businesses so they could support each other.
Pratibha founded the Facebook group Powerful Empowered Women in 2019. Two years later, after Covid restrictions eased, she and her team of volunteers started fundraising for charities and causes as well as setting up business events where members could connect.
To date the Powerful Empowered Women's group has raised thousands of dollars for charity including $11,000 to the I4Give Foundation, $5,500 for the Hills Winter Sleepout to support people at risk of homelessness, $1,400 to the Cancer Council through the Hills Relay For Life, Pratibha has also organised two Pink Ribbon breakfasts at her office.
PEW has supported The Sanctuary – The Hills Women's Shelter with $1000 in vouchers and with two Back to School Drives for stationary items.
PEW also secured 10,000 bottles of water to donate to the StreetMed organisation which helps with the homeless in Parramatta and the Hills area. Other areas of help have included donations to bushfire ravaged communities and support for Beyond Blue and The Women's Shed – Hills Shire.
Pratibha said she wanted to thank the community "from the bottom of my heart" for their incredible support for the various fundraising projects.
She also received an Australia Day Special Mayoral Recognition Award 2023.