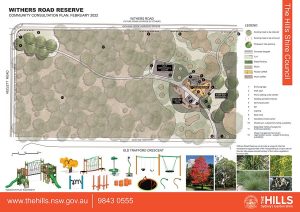 Withers Road Reserve is the newest park finished in the Hills Shire, and the community is invited to its big opening day on the 19th of August, 2023.  
The park features a playground with shade sails that is suitable for all ages and abilities, as well as a basketball half-court, turf kickabout area, and concrete pathways. Play equipment includes swings, slides, decks, springs, and interactive play activities for the kids.
Withers Road Reserve follows a natural theme dotted by native trees and vegetation. Much of the previous vegetation was retained and transformed into a green space, now a significant part of the parkland's design.
The park opening will have free face painting and limited coffee and cake for the first 300 people. The event will begin at 10:00 AM and end at noon. The park is located at the corner of Hezlett Road and Withers Road in North Kellyville.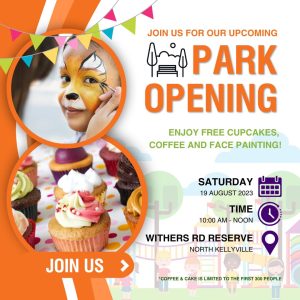 Hills Shire Council poster for the 19 August Withers Road Park Opening.
In March 2022, the Hills Shire Council called for a feedback survey on the Withers Road Reserve's proposed design. According to the feedback, Many supported the half-court basketball court and the shade sails.
Water play was also requested, but the Council addressed that it is only possible for the district or higher-level parks. Further, the Bernie Mullane Sports Complex offers a large water play area in Livvi's Place All-Access Playground.
Civilscape Pty Ltd was awarded the construction tender in February 2023, started construction in March of the same year, and was expected to be finished by August.